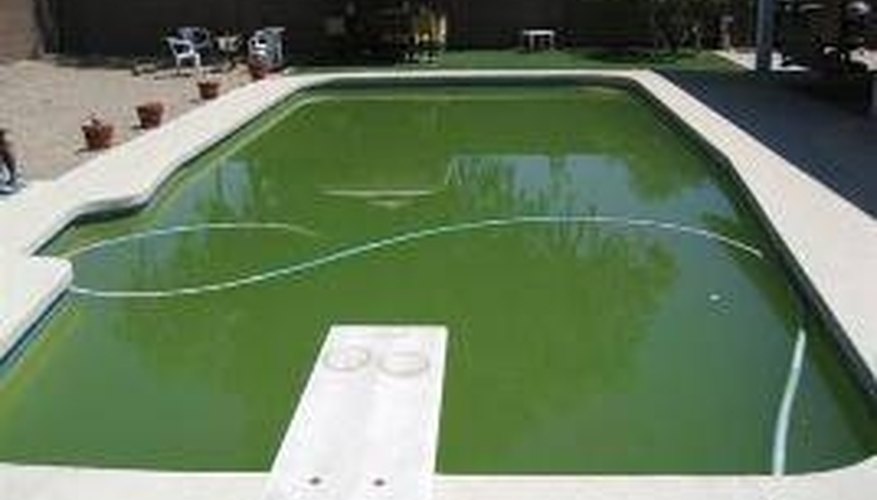 Acid washing is a process of applying a diluted solution of hydrochloric acid (HCl), commonly referred to as muriatic acid, to concrete and other surfaces as a potent cleaning agent. Acid washing is frequently used by professional swimming pool maintenance companies to clean pools that have hard-to-remove mineral deposits or have become deeply stained from neglect or improper care.
History
Hydrochloric acid was first discovered in the 9th century A.D. by alchemists searching for the mythic Philosopher's Stone. In the Middle Ages hydrochloric acid was called spirits of salt, a name by which it is still referred to in the United Kingdom. The chemical compound was used throughout the 20th century for a variety of household and industrial applications, including processing leather, pickling steel, oil production and building construction. In the 21st century, hydrochloric acid is frequently used by homeowners to remove difficult stains from their swimming pools in a process known as acid washing.
Function
Acid washing strips away a tiny layer of concrete, plaster, or other surface revealing the fresh surface layer beneath. Acid washing may be used to remedy long-neglected pools that have seen substantial algae growth; pools that have not been properly winterized; or pools that have severe stains or mineral deposits that do not respond to conventional cleaning processes. Because of the corrosive nature of acid washing it is not recommended as an annual maintenance process.
Identification
Acid washing is commonly referred to by industry professionals as "drain & clean." This process becomes necessary if the pool has been allowed to remain stagnant for an extended period of time. If the pool floor is visible from the surface, cleaning with standard pool chemicals and filter may bring it back to acceptable standards. If the pool floor is not visible from the surface, acid washing may be necessary and will probably be more cost effective than trying to clean the pool by more conventional methods.
Considerations
Acid washing should only be used on concrete or plaster-type swimming pools. You must not use hydrochloric acid if your pool is vinyl lined. Instead, clean your vinyl-lined pool with manufacturer-approved detergent and conditioner. This will require scrubbing the stained surface to remove the slime buildup. The liner may need to be reset prior to refilling the pool. Adding a weekly dose of algaecide will help to prevent the need for acid washing in the future.
Warning
Commercial grade hydrochloric acid is a dangerous substance and should only be handled by trained, experienced professionals. It can cause burns on bare skin and it may give off noxious fumes. If you choose to do it yourself be sure to wear protective clothing and a breathing apparatus during the acid wash. Hydrochloric acid must be neutralized by applying soda ash or another approved agent, and rinsed completely to discontinue the etching plaster. Most pool maintenance companies have employees who are trained in acid washing procedures.
Prevention/Solution
As the old saying goes, an ounce of prevention beats a pound of cure. Proper swimming pool maintenance on a regular basis will prevent the need for costly acid washing. Check the pool daily for proper pH and alkaline balance and adjust as necessary. Add the proper amount of chlorine or bromine to kill bacteria and keep the water safe for swimming. Vacuum the pool as needed and don't forget to check the filter on a regular basis.