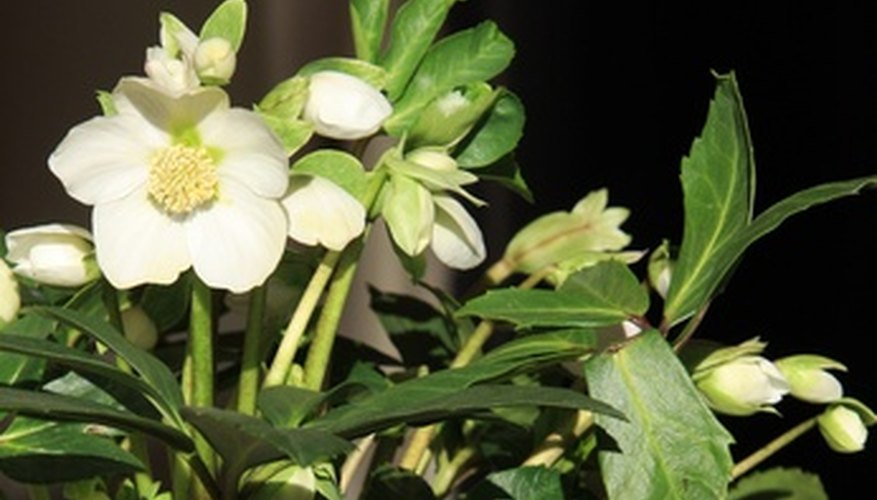 Helleborus orientalis is an ornamental perennial (evergreen in warmer climates) that offers delicate, bell-shaped blooms in white, pale green, pink or purple and dark leathery foliage. The hellebore, also referred to as the Lenten Rose, is very slow to germinate, and may take three to four years to bloom when grown from seed. These herbaceous beauties are relatively care-free and drought tolerant, blooming in late winter or early spring, with petals that will last for several months.
Mix one part potting soil, one part compost and one part water in the planting container to form a slightly moistened base for the Helleborus orientalis seedling. Dig a hole as deep as the root ball of the Helleborus seedling in the center of the soil.
Remove the seedling from its store container. Use a knife to loosen the soil from the edges of the container and gently lift it up and out.
Loosen the roots around the base of the seedling and place it in the hole in the planting container. Pack soil around the transplanted hellebore and spread a layer of compost around the base of the plant.
Water until the soil is moist but not saturated to allow the plant to settle into its new home, then place your potted Helleborus orientalis in a location that receives partial or dappled shade.
Add a thin layer of compost around the base of each plant during the blooming season. Once the blooming has passed, compost once a month.
Water hellebores regularly, at least twice per week, during active growth in the spring and fall. Cut back to once every two weeks or so when plants enter their dormant stage during the hot summer months.