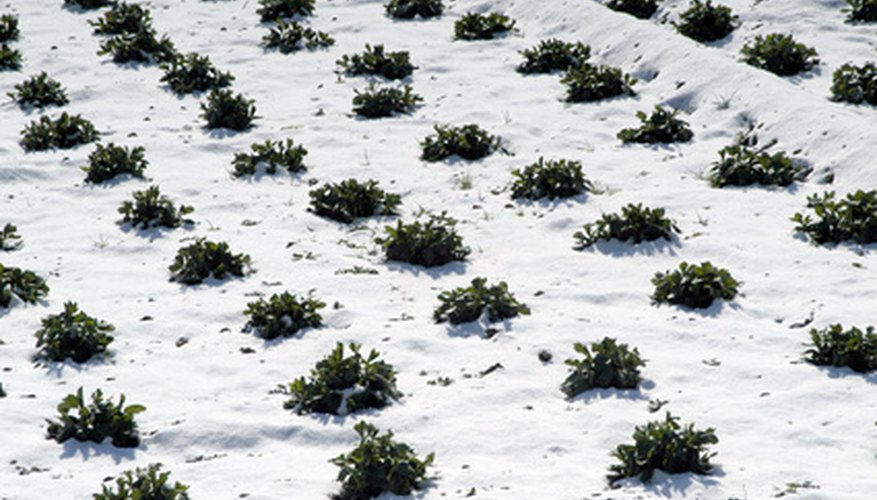 You probably don't think of Maine for growing vegetables in winter but more for its cold snowy winters and short growing season. For Maine folk, planting a garden usually starts in the late winter with seedlings under grow lights and extends into the winter with certain vegetables that can withstand the cold for a while. A lot will depend on the temperature of your specific area in Maine, and Richard J. Brzozowski an Extension Educator of the University of Maine Cooperative Extension recommends that you keep records of frost dates and snow dates to get the average for your area. With a little effort, you can grow vegetables year round, even with the snow of Maine.
Learn to think outside the normal parameters of warm weather crops. Most of Maine is actually along the same latitude of warmer areas in the Mediterranean region of Europe. The difference between the two is not the amount of sunshine, but the wind and coastal temperatures off the ocean. If you can shelter the soil from the cold air blowing over it, the plants grown in it will have plenty of sunshine and warmth to grow. Of course, some vegetables like tomatoes and peppers need warmer temperatures but there are a whole host of greens, root vegetables and Brassica plants that thrive in the cooler temperatures.
Build some cold frames. This will accomplish the task of warming the soil with sunlight without the need for extra heat. A cold frame is a bottomless box with a lid on it. You can get fancy in your building of it or simply use an old window for the cover and some lumber for the box. Some people angle the cover of the frame to collect more sunlight, or place it in a sheltered area to collect more heat. Keep them small enough that you can reach in to collect and manage your vegetables without too much of a stretch.
Plant tender cool weather vegetables in your cold frame. Think of greens like arugula, spinach, lettuce and dandelions for salads. These will do well in a cold frame without the danger of frost. Other roots crops like parsnips, beets and carrots can be encouraged to grow during the winter in the cold frame.
Plant cold loving plants like kale, Brussel sprouts, cabbage and Swiss chard. They will often withstand snow if you mulch them with hay or drape them with a floating row cover. You will still have to push back the snow to access the plants, but they will be sweet and tender and should last well into the winter months if you plant them while the air is still warm outside.