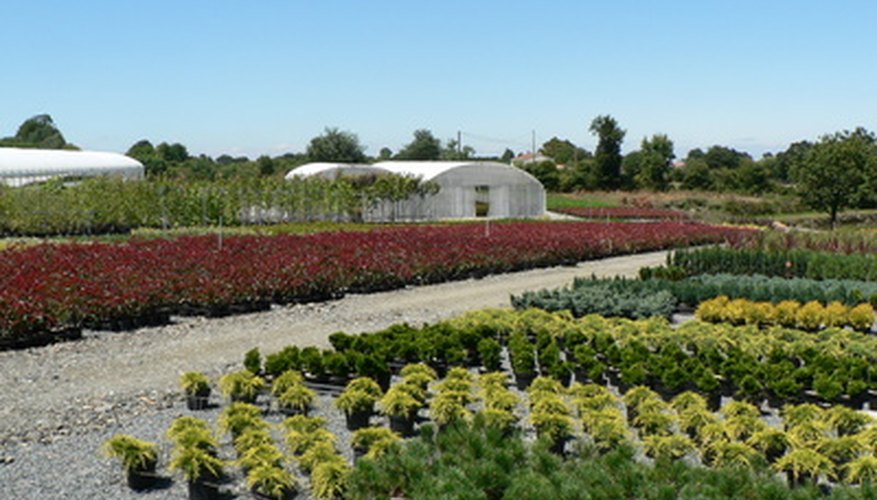 Plant nurseries specializing in native plant species are a niche market in the nursery industry. Landscapers and home gardeners regularly buy and grow plants native to their area since native plant species tend to grow better and live longer than non-native species. Starting a nursery business requires careful planning, a sophisticated knowledge of native plants and a marketing plan.
Decide whether you will be a wholesale or retail nursery. Wholesalers propagate, grow and sell plants in bulk directly to retailers. Retail nurseries purchase their plants from a wholesaler and only grow a limited amount of their own plant stock. Which type of nursery you operate will determine where you invest your money and where to focus your marketing efforts. Native plant nurseries specialize in shrubs, trees and perennial plants indigenous to a particular area. These plants take time and effort to propagate and grow to a salable size.
Draft a business plan. A business plan should include your financial means and goals, a marketing strategy, a staff strategy and a thorough exploration of all the supplies and equipment needed to successfully run your nursery operation. Good business plans focus on start-up costs and first year projections, as well as outlining business goals for future years. Note that if you are purchasing your native plants from a wholesaler, you will need to invest heavily in your inventory for the first year, and this should be reflected in the business plan.
Study native plant species and growing habits for your area. You are likely already familiar with at least the basics of selecting and caring for native plants. However, your customers will expect you to be an excellent resource for everything from what plant might grow well in their yard to how to control common native plant pests. Consider becoming a master gardener through your local extension office. Invest in and keep native plant resource books on hand.
Purchase, rent or convert existing land into nursery appropriate space. You will need an area to display plants ready for sale, a greenhouse for holding back stock and a shaded area both for displaying plants that require shade and storing back stock that needs shade. You will also need a work area outside of the sales area. Be certain that your space is zoned appropriately for a commercial business.
Install an irrigation system. Though native plants tend to be drought tolerant when planted in the garden, they can quickly experience drought in a pot, and a thirsty plant can look a lot less desirable for purchase. Additionally, your financial investment in native trees, shrubs and other perennials will be too great for you to risk losing plants to drought. Nursery owners often opt for an overhead misting system or in-ground irrigation. Either system may require a large upfront financial investment—to be reflected in your business plan--but it will save you money and product over the long term.
Market your business. Emphasize your expertise in native plants, highlighting the benefits of planting and growing native plants. You will need business cards and print advertising. Consider taking flyers to your local farmers market and joining a local garden club where you can network. A website or email newsletter is also beneficial to marketing.
Things You Will Need
Business plan

Retail sales space

Marketing materials

Native plant resources
Tips
Know your sales seasons. Gardeners plant in the early spring and late fall. Host a spring sale in March and a late season sale in September.

Remember to sell in threes. Native shrubs and perennial flowers look best in the garden when planted in groups of threes. This landscaping tip will increase your sales and leave your customer happier with their garden design.