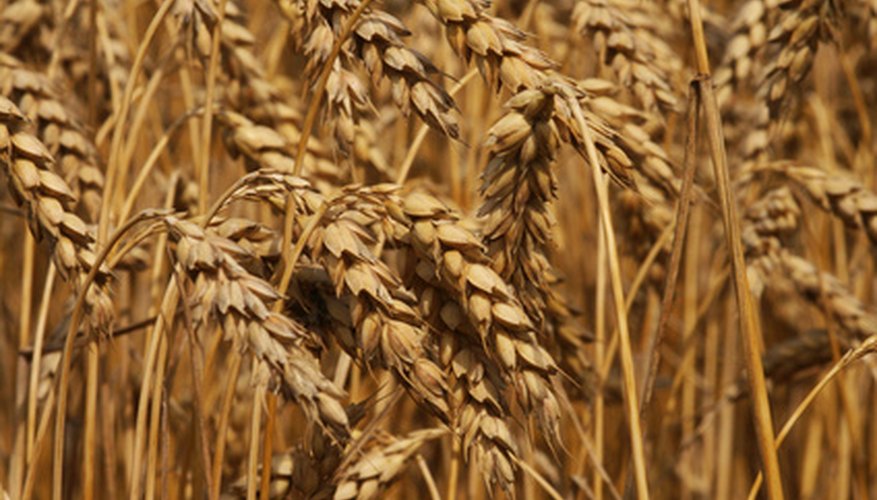 Wheat grows abundantly across much of the United States, providing the grain for bread and cereal products. Farmers harvest large wheat crops with combines that separate the wheat seeds, or "berries," from the dried wheat stock. Even if you don't have a combine, you can save the seeds from mature wheat stocks.
Wait until the wheat heads become golden tan and are dry to the touch. Before that, the wheat berries attach firmly to the stock and they are not ready for harvest. In much of the U.S., the wheat crop is ready for harvest in June and July.
Test for readiness by cutting a wheat head from its stock and rubbing it between the palms of your hands. If the wheat is ready, the dry seed casings will fall away, leaving the small brown seeds in your hand.
Cut the wheat heads from their stocks and position a window screen on top of a workbench or on a couple of sawhorses or even on the ground.
Rub the wheat heads, two or three at a time, between your palms, holding your hands over the screen. As you rub, the seeds will fall onto the screen along with some of the heavier dried seed casings.
Remove the larger center section of the wheat heads from the screen and blow away the small seed casings. If it's a slightly breezy day, the casings will blow away as you rub the wheat heads between your hands, allowing the seeds to drop to the screen.
Shake the screen lightly back and forth, encouraging residual bits of casing to rise to the top of the wheat berries and blow them away.
Repeat this process until you have as many wheat seeds as you want to save. Store wheat berries in airtight containers to keep out insects until you're ready to grind them.