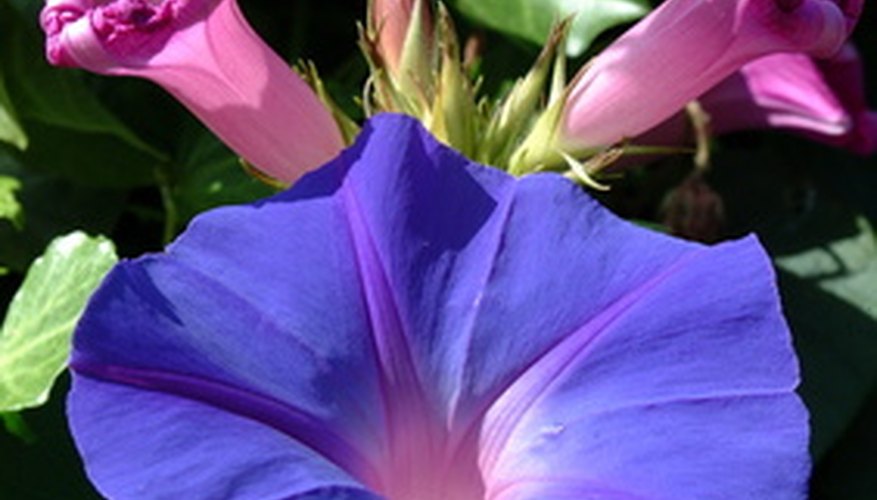 The morning glory family comprises more than 1,000 different species, including annuals and perennials, shrubs, trees and climbers. Morning glory flowers emerge in a burst of different colors, usually tubular or funnel-shaped. They are truly "here today, gone tomorrow" because they open and close within the same day.
Species Profile
Ipomoea purpurea, or common morning glory, is native to tropical North and South America but grow in many other regions and countries. The large, open-trumpet, purple flowers flourish on vines that reach to about 16 feet in height. Their general flowering season is between July and September.
Colors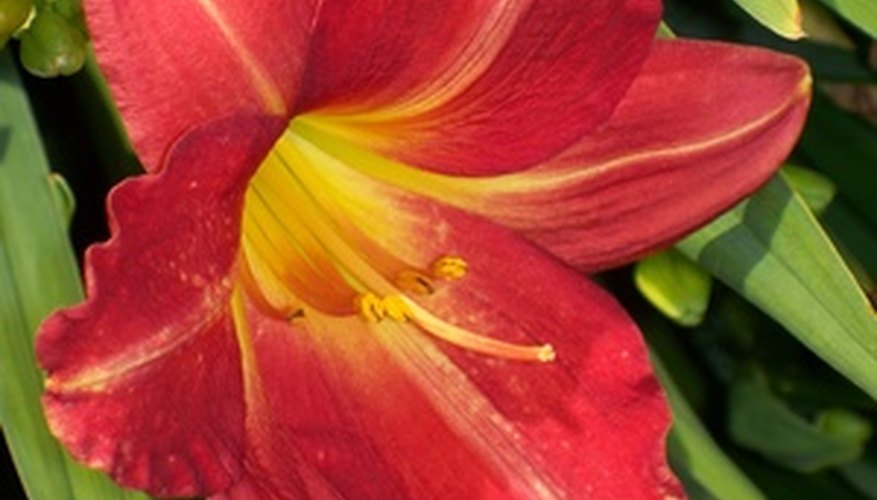 Heavenly blue morning glory (Ipomoea tricolor) exhibits flowers that are about 3 inches in diameter. The flowers are bright blue, fading to reddish purple. This South American morning glory responds to a place in the sun and well-drained soil.
White flowers characterize Ipomoea alba, better known as moon flowers or belles-de-nuit. They are fragrant, trumpet like blooms that grow on climbers. The flowers are about 6 inches in diameter and tend to open in the early evening. They flourish in South America and tropical North America.
The ivy-leaved morning glory (Ipomoea cairica) is indigenous to tropical Africa and Asia. This perennial features lilac-colored blooms and leathery, dark green leaves.
The redstar morning glory (Ipomoea coccinea) has bright red flowers with pale yellow throats.
All in the Family
Two versions of the yellow morning glory are both members of the Convolvulaceae family, but one is from the genus Merremia, and the other is from the genus Ipomoea. The Merremia aurea yellow morning glory is native to Mexico. Its summertime blooms are between 2 to 4 inches in diameter. The other yellow morning glory, Ipomoea hederifolia var. lutea, is native to the Americas but also grows in India. It is commonly called yellow ivy leaf morning glory or yellow trumpet morning glory. It exhibits smaller, bright yellow to orange blooms.
History in Europe
Ipomoea indica, or blue dawn morning glory, has large, purple-blue blooms that flower profusely. Ipomoea indica is indigenous to South America and was introduced to Britain by Henry John Mandeville (1773-1861), British minister to Buenos Aires, Argentina. Subsequently, at a nursery in Chelsea, the Ipomoea indica grew to 40 feet in length and produced a record 60,000 flowers, progressing from 300 to 800 flowers daily. This particular morning glory became very popular and was much in demand for its profusion of brilliantly colored flowers and easy-to-grow personality.
History in Japan
Morning glories arrived in Japan in the ninth century. In the British Museum, "Morning glory" is a hanging scroll painting by Matsumura Keibun (1779-1843) that depicts blue blooms. During Japan's Edo period (1830-1840), the morning glory flower (asagao), was a sought-after ornamental. A scroll such as this one would grace a traditional tea room for a tea ceremony. The choice of morning glories suggests a morning tea ceremony.