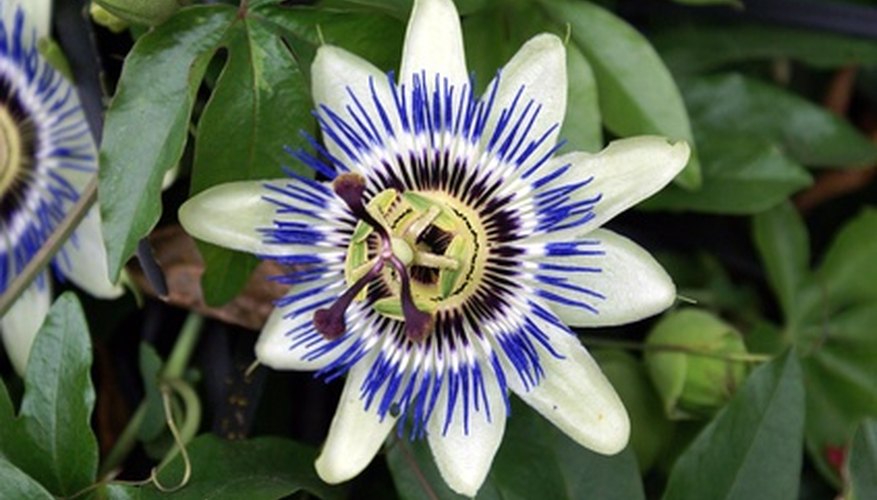 The blooms of the passion vine, also known as passion flower, May-pops, lilikoi, granadilla and maracuja, offer show-stopping beauty to any garden or landscape. While passion vine is a native of Texas, most varieties thrive in any mild climate as long as extreme temperatures are avoided. Passion vine tends to be a vigorous grower, making it perfect for covering large areas with beautiful green foliage; stunning flowers appear shortly after.
History
Passion vine is a native plant of South, Central and North America. Legend suggests that in 1620, a Jesuit priest found the vine growing in Peru, and that night, dreamed the plant's blossoms stood for Christ's passion.
Description
A vigorous grower, this perennial features attractive green foliage that spreads very quickly up arbors, fences or trellises. The vines grow up to 30 feet depending on the variety. In early to midsummer, fragrant flowers appear, most of which reach several inches in width. Some types bloom all summer as long as they are protected from temperatures over 90 degrees Fahrenheit. The plant thrives in USDA hardiness zones 5 through 9 as long as the plants are protected from frost and freeze.
Varieties
More than 500 verities of passion vine exist in a variety of colors, including shades of pink, purple, orange, peach, yellow, white and red. Two passion vines that bloom all summer include adularia with clusters of pale-orange to yellowish flowers and atropurpurea with deep mauve petals, a dark center and bright white filaments. The native May-pops passion vine produces small edible fruits–when the fruits are stepped on, they make a loud popping sound, thus their name. This native plant also handles a bit of cold and frost without much damage to the plant.
Uses
As far back as the mid-1500s, passion vine leaves were being used as a natural sedative. The fruits of the plant were also valued as a favorite food. When Spanish physician Nicolas Monardes brought the plant back to the Old World in the 1600s, it became popular as an herbal tea. Today, the plant is used in herbal medicine for sleep disorders, headaches and nervousness.
Planting and Fertilization
Passion grows in just about any well-drained soil as long as it receives regular watering. The plant doesn't do well with constantly wet soil, though, and is tolerant of short periods of drought. A 10-50-20 fertilizer should be applied before the plant shows growth in the spring. After that, fertilizer should be applied every four to six weeks.
Wildlife
A number of butterflies use passion vine as a host plant to lay their larva. Bees also find the flower attractive, while the fruits of the plant offer an important food source for wildlife, particularly birds.