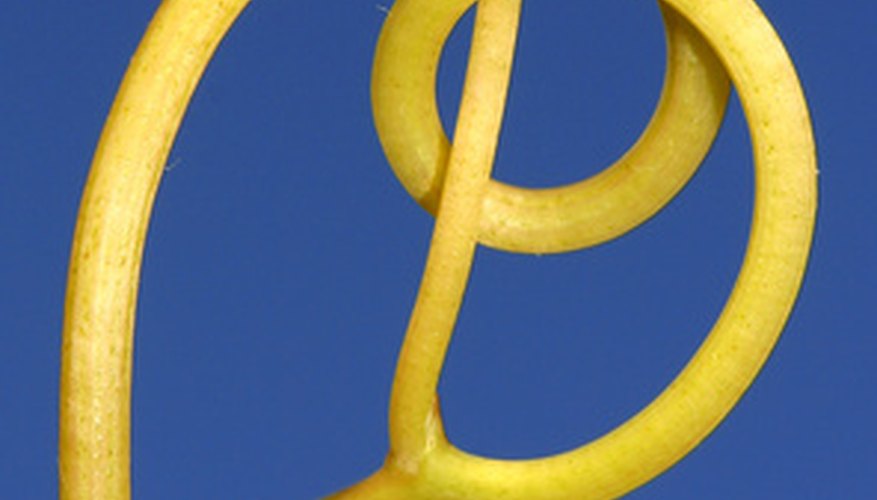 Grape vines are flexible crafting materials that you can use to create a variety of home and garden décor items. Make a springtime wreath covered with pansies for the front door or hang a grape vine ball filled with lights in your garden. As long as the grape vines are soaking wet or freshly cut, you can shape them into any design that you like.
Grape Vine Wreath
A simple craft to make with grape vines is a wreath. You can make any size or shape wreath that you like, as long as you soak the grape vines in water overnight to make them more pliable. Create the shape of the wreath with a single grape vine, attaching the vine to itself as needed by wrapping floral wire. Continue to add dimension to the wreath by adding more grape vines on top of the first until the wreath is the desired fullness. Decorate the grape vine wreath with silk or dried flowers, bits of ribbon, berries or any other embellishment that you like. Attach the decorations to the wreath with hot glue, wire or floral tape.
Grape Vine Tree
Wrap grape vines around a wire tomato plant cage to shape a grape vine tree for your garden. Begin wrapping larger vines around the base of the tomato cage, gradually decreasing the thickness of the vines as you get closer to the top. Strips of craft or floral wire will work to attach the grape vines to the tomato cage. Cover the cage completely with the grape vines and then decorate the tree with twinkle lights, strands of colorful glass beads and dried berries. The tree resembles a Christmas tree that will look lovely in your garden all year long.
Grape Vine Ball
Shape pliable grape vines into any size ball to create rustic holiday ornaments or decorative lights for the patio or garden. Make hollow ball shapes by wrapping soaked or fresh cut grape vines around an inflated beach ball. When the vines are dry, deflate the beach ball and remove it from the hollow center by pulling it carefully through the vines. Add battery powered string lights, silk flowers or other embellishments to decorate the grape vine ball.
Grape Vine Flower Arrangement
Combine a grape vine ball with a grape vine wreath to craft a container for a floral arrangement. Make the ball any size you like, then make a wreath to fit around the outside of the ball as it rests on a flat surface. Wire the two parts together with floral wire. Insert silk or fresh flowers through the vines in the ball to make the floral arrangement.
References
Resources