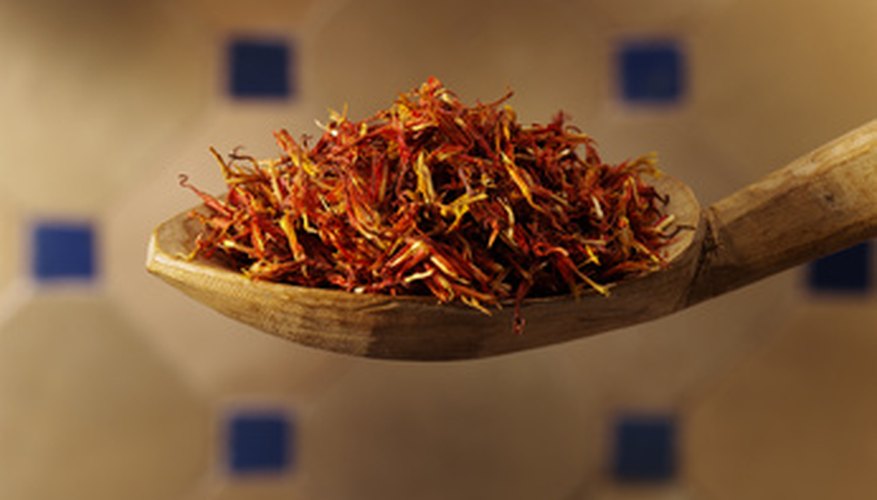 The yellow spice saffron comes from the saffron crocus (Crocus sativus) that blooms in the fall. It's a small but dramatic plant with lavender petals, yellow stamens and three threadlike, orange stigmas in the center of the flower. Plant saffron crocuses in your garden, if you have the hot, dry summers and cold winters they like. Saffron crocuses are hardy in climates as cold as USDA Zone 5. Harvest the stigmas for your spice cabinet. Saffron is the most expensive spice and growing your own will reap significant savings.
Monitor your crocuses since you want to pick the flowers on the first day they open. Go to your garden, the day the flowers open, in the middle of the morning. Use small garden shears to cut the crocus flowers off their stems, and put them in a bowl.
Choose a table indoors where you can sit comfortably. Place the bowl of flowers on the table. Pull all three orange stigmas from each flower. Use tweezers to pull the stigmas if it is hard for you to grasp them with your fingers.
Spread the stigmas out on a dinner plate, cover them with a paper towel and let them dry. Use a dehydrator set on low, if you have a large number of stigmas, or a clean piece of screen that has air circulation all around. Close doors and windows so that the stigmas do not blow away.
When the stigmas are dry, store them in a small jar with a lid.
Observe the crocuses to see if additional flowers open.