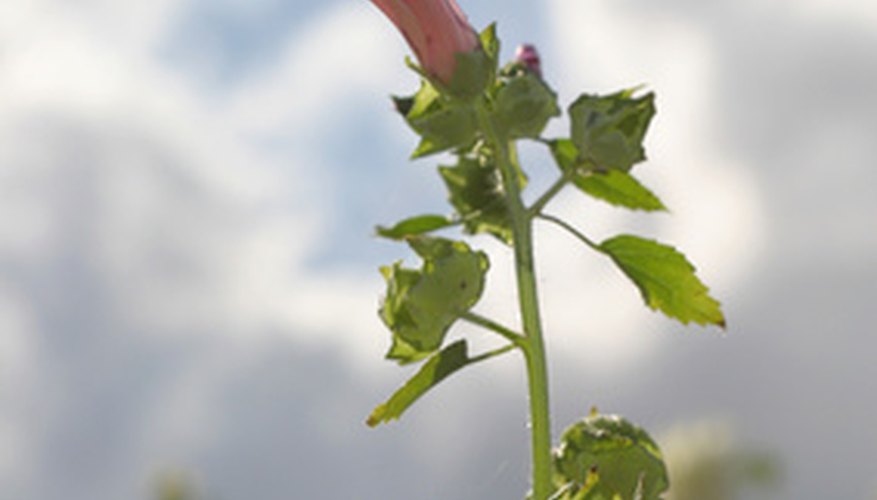 Rose of Sharon, or the hibiscus syriacus, is a perennial plant that enjoys growing near the water. For this reason, you can actually get cuttings to root by simply starting them in water. You cannot just leave them as they will eventually rot without any air getting to the roots, but with the proper care, you will soon have clones of your rose of Sharon plant.
Cut off some softwood cuttings from a healthy rose of Sharon plant. Make sure it has a healthy growing tip (one that has not been broken or cut off) and two or three leaf buds or leaves. Cut sections 6 to 8 inches long.
Remove the lower leaves, if present, and set the cutting into a container filled with water. The water needs to be high enough to cover the areas on the cuttings where the highest leaves were removed but not so high as to cover the top of the cutting. You can add 50 mg of aspirin to a quart of water and use this to help stimulate growth in place of plain tap water.
Set the container in a sunny window and wait to see signs of growth. Don't add any more water, just refresh it after a couple of weeks with fresh water. The most important step in establishing a cutting is to make sure it gets plenty of water initially.
Pour pea gravel into your container so that 1/4 of the water is displaced by the gravel. Lift the cutting up so that it sits on top of the gravel. This will serve as the drainage area for your container.
Add sand to the container so that it displaces more water. Don't pour out the water before you put the sand in or there is a chance the sand will be dry when it touches the cutting. Leave the cutting sitting on the bottom layer of gravel.
Pour off the remaining water after the sand has had a chance to settle (about 15 minutes). It is not necessary to get all the water out--just the majority of it. Fill the container with moist soil so that it reaches the water line on the cuttings. Allow the cuttings to root for six to eight weeks. You should see signs of growth and new leaves forming eventually.
Transplant your rose of Sharon clones.
Things You Will Need
Pruning shears

Container

Aspirin

Sand

Pea gravel

Potting soil