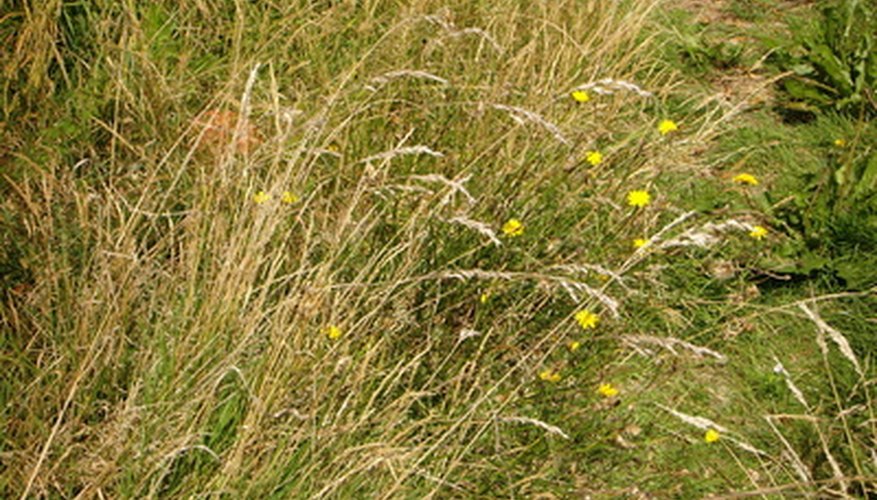 Ornamental grasses are often included for visual interest in gardens and xeriscaped landscapes. Ornamental grasses, especially grasses native to Colorado, are ideal for arid and semi-arid parts of the state. By selecting native grasses as ornamentals, you should have minimal issues with upkeep and care.
Xeriscaping
In many parts of the world, water is very scarce. Colorado ranges from prairie to arid to semi-arid, depending on the part of the state. Water is scarce throughout the state. Flower and ornamental gardening can use a lot of those scarce water resources. Xeriscaping is a landscaping technique that uses rocks and plants that require very little water. Native ornamental grasses can be a nice addition to a xeriscape.
Advantages of Local Grasses
In addition to their naturally low needs for water, local grasses are are more resistant to pests and disease than some non-native grasses. Using native grasses also helps to prevent potential escape through seeds of hardy non-native grasses. Native grasses are generally ideally suited to local environments and growing conditions.
Needle Grass
Desert needle grass, or Stipa speciosa to distinguish it from the other species of needle grass, grows very well in the desert areas of Colorado. This ornamental grass grows 1 to 2 feet tall. Native Americans ate the young desert needle grass shoots and would sometimes burn clumps to encourage new growth. The leaves of this grass are gray. Desert needle grass needs very little water, and should grow well in almost all parts of Colorado.
June Grass
June grass is an unusual ornamental grass that does well in Colorado. June grass has 1/2-inch long hairs along the lower stem. This cool-season grass often grows 1 to 2 feet tall and features fine leaves and a shallow root system. June grass gets its name from the month in which it flowers and seeds. The flowers on June grass are pale greenish silver. June grass does best in areas where there are at least 10 inches of precipitation. It grows well in sandy soil, but can also do well in coarser soils. It can easily survive heat, snow and strong winds.
Western Wheatgrass
Western wheatgrass is a commonly used ornamental native grass in Colorado. This frass is 1 to 3 feet tall, and it's a long-lived grass that often has coarse blue-green leaves that sometimes result in it being called bluestem wheatgrass or bluejoint wheatgrass. The leaves often feature very prominent veins. Western wheatgrass grows best at elevations of 1,000 to 9,000 feet. It generally requires 10 to 14 inches of water per year and, as such, is suitable for low-water xeriscaped areas. Western wheatgrass will tolerate salty soils, poor drainage and moderately severe droughts. The seeds on this grass gather in a 2- to 6-inch long spike near the top of the grass.