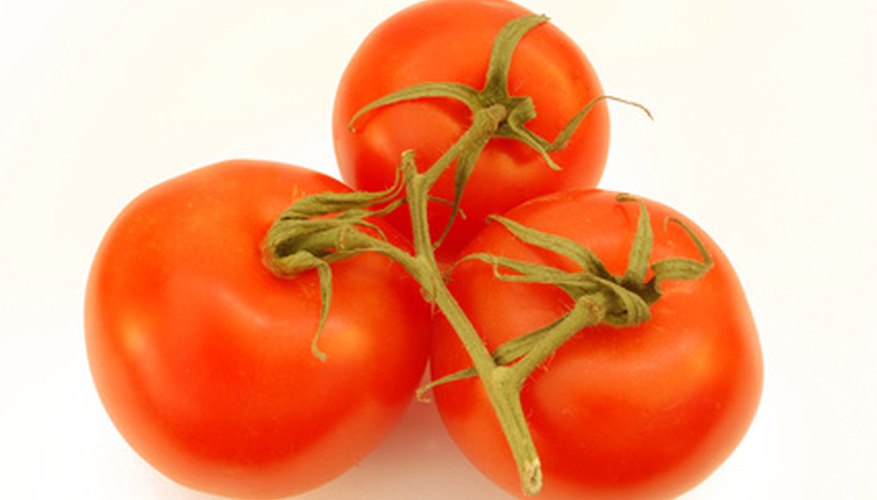 According to the University of Kentucky, tomatoes have been grown in greenhouses for the past 100 years. Perhaps because tomatoes adapt well to the greenhouse environment, there is more literature on how to grow them in a greenhouse than any other plant. Tomatoes are a warm-season crop that produces best when they receive plenty of light and heat, and they grow well in almost any greenhouse. One of the least expensive greenhouses to build is a hoop-house style.
Lay out the footprint of your greenhouse using garden hose. The greenhouse should measure 12 feet square. Divide your 12 rebar pieces in half and drive them into the ground 1 foot deep. Each rebar piece on one side should line up with a corresponding piece on the other side. Take up the garden hose.
Flex the conduit pipe into an arch and place each end over a piece of rebar sticking up from the ground. When you have finished, you should have a frame made of six ribs.
Climb up on a stepladder to the ridge of your greenhouse frame. Wrap heavy-gauge wire around the top of the end piece of pipe. Stretch the wire so that it reaches to the second pipe and wrap it around that pipe. Continue stretching the wire and wrapping it around the pipe until you have created a wire ridge over the entire frame. This will increase the wire's stability.
Paint the pipe and wire with latex paint. Allow the paint to dry.
Cover the greenhouse with UV-resistant greenhouse plastic. Anchor the plastic around the edges of the greenhouse and the ends with cinder blocks.
Move a thermometer and space heater into the greenhouse. On sunny days, check the thermometer. Open the plastic on one end of the greenhouse any time temperatures rise over 90 degrees Fahrenheit to ventilate the heat from the greenhouse. Turn on the space heater any time temperatures drop below 50 degrees.
Fill your greenhouse with potted tomatoes. Tomato seedlings grow well in a 5-gallon bucket filled with container potting soil. Water your plants daily, or place a soaker hose over the tomato containers. Turn on the hose whenever you want to water your plants.