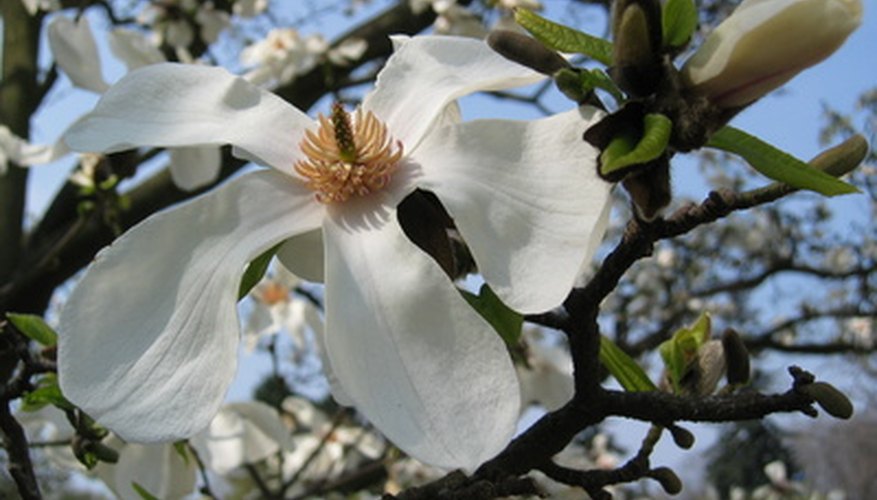 According to the U.S. Department of Agriculture, the Southern Magnolia tree is native to North America. This tree grows in the West Coast states, many southern states and in the Southeastern states. The characteristics of the Southern Magnolia make it a favorite as a shade and ornamental tree for both commercial and residential landscaping.
Height
The Southern Magnolia tree reaches an average height of 80 feet. The general shape of the Southern Magnolia is pyramidal. The lower branches are wider than the top portion of the tree. The tree provides a spread of 30 to 40 feet, making it a good shade tree.
Foliage
The Southern Magnolia tree is an evergreen. It retains its medium to dark green leaves year round, without changing color during the fall. The leaves are lengthened and oval in shape. Leaves range from 4 inches to 8 inches in length.
Flowers
The white flowers on the Southern Magnolia tree rest within a cluster of leaves. Yellow reproductive parts appear in the center of the petals. A slight purple color appears where the stamen and petals connect. The flowers are showy and bloom during the latter part of spring into the summer. Dried flowers make beautiful flower arrangements. The light fragrance from the flowers make them ideal for dried potpourri.
Wood
The Southern Magnolia tree is used for furniture and wood items, due to its hardwood qualities. The gray bark on the Southern Magnolia tree is papery and thin. Horticulturists recommend using caution when operating landscaping and lawn equipment around the Southern Magnolia tree to prevent damaging the bark and wood. As the tree matures, the bark becomes scaly in appearance.