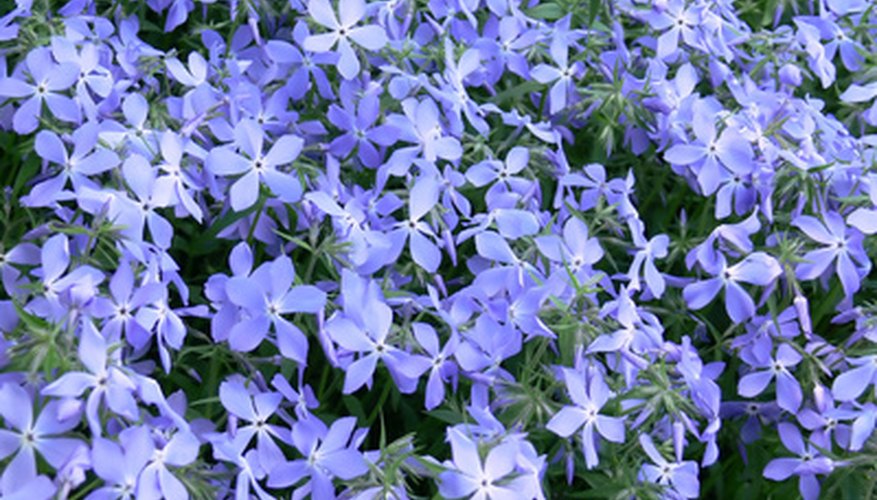 Creeping phlox (P. stolonifera) makes an easy-to-grow, low-maintenance ground cover, growing 9 to 12 inches in height. It is also beautiful as a border plant or in a rock garden. If left undivided, creeping phlox can spread 3 to 4 feet. It doesn't grow well in heavy clay, but tolerates locations in light to full shade with poor soil. Creeping phlox is virtually maintenance-free once established. Make sure it gets between 1/2 inch to 1 inch of water per week.
Insects
A healthy creeping phlox is able to stand up to attacks by most insect pests. If the leaves have light green or white spots, it's possible that the phlox plant bug has infested the area. The spots are caused by the bug feeding on the leaves. A severe infestation can result in dwarfed buds and deformed growth. These bugs overwinter in the garden debris, so a thorough cleanup of the garden in the fall and winter goes a long way toward prevention of infestation. Adult bugs, eggs and nymphs can be handpicked from the plant and dropped into soapy water.
Crown Rot
Creeping phlox is less susceptible to crown rot than the larger phlox plants, but if shoots don't appear in the spring, crown rot may be the culprit. Other indications are black stems and yellow, wilted leaves. Good drainage will discourage bacteria and fungi from the area. Cultivating the soil around the plant will dry the soil to discourage the spread of disease. Avoid the crown area of the plant when spreading winter mulch so that moisture doesn't build up and invite disease. Remove all infected plants (along with surrounding soil) from the garden and discard.
Powdery Mildew
Fungi living on the surface of creeping phlox can cause powdery mildew, especially on lower leaves where the conditions are most moist. An ash gray or white powdery mold will cover the leaves, eventually causing the leaves to become discolored. The leaves usually become distorted before they drop off. Preventative measures include ample spacing around the creeping phlox. A good garden cleanup in the fall will also allow air to circulate and lessen the probability of powdery mildew. If the plants have already been attacked by the mold, spray with wettable sulfur once a week.
Tip for Growing Creeping Phlox
A good shearing after blooming will not only keep the creeping phlox contained to a small area the a rock garden, but will make a denser mat.