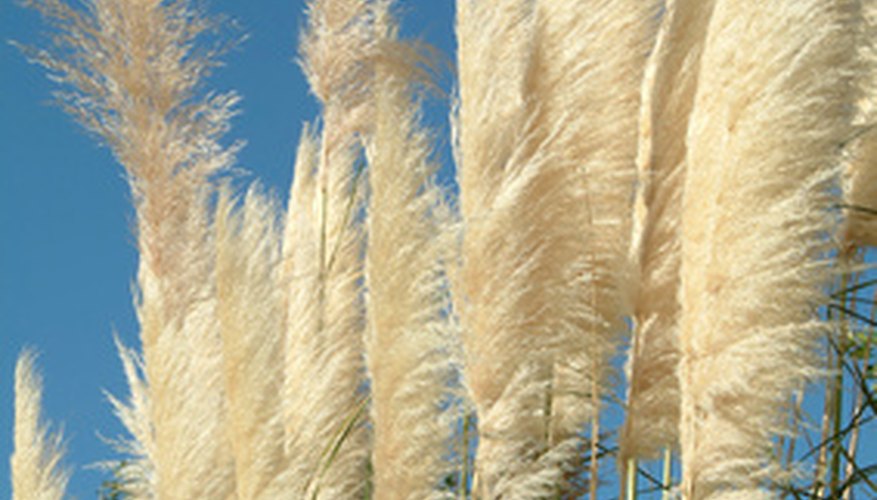 Ornamental grasses provide color, form and texture to gardens with their flexible leaves and delicate flower heads. Grasses come in an array of varieties and sizes as some grasses remain low=growing at 6 inches, while others grow into upward arching shapes as tall as 15 feet. Most types thrive in full sun and well-drained soil, but they are highly adaptable. Grasses grow by the sea, in shade and in the swamp, making them suited for any garden situation; some have even adapted to clay, acidic or alkaline soil, according to Micheal King and Piet Oudolf's Gardening with Grasses. Most grasses are vigorous and relatively disease free and require minimal maintenance.
Blue Fescue
Introduced from Europe, blue fescue stands out with low, tufted mounds of narrow steel blue foliage. Elijah Blue is one of the more popular cultivars because it develops a deeper blue color the more sun it receives. This cool-season grass thrives better in dry conditions and sandy soil than heavy, wet soils. Fescue grows to 1 foot in height and spread, which makes it an ideal edger or ground cover when planted en mass. It also requires little in the way of maintenance. Cut back the faded flowers in the fall and divide established clumps every three years to restore vigor.
Miscanthus
Native to Japan, miscanthus gets high marks as the showiest group of ornamental grasses with hundreds of cultivars in an array of colors, textures and sizes. The cultivar Maiden Grass remains an old favorite because of its narrow, variegated leaf blades and round cascading form. The panicle, or flower head, turns from bronze to a fluffy, silvery white in the fall and provides winter interest to any garden. Maiden Grass grows up to 4 feet and the stalk reaches 7 feet, often collapsing under its own weight. Because of its large size, Maiden Grass functions as a focal point or a backdrop for perennials. All miscanthuse are warm-season grasses that prefer moist, well-drained soil, but do not winter well in excessively wet locations. Miscanthus needs division every third or fourth year to prevent the clump's center from dying.
Fountain Grass
Originally from Africa, fountain grass offers a many annual and perennial cultivars. The cultivar Purple Fountain Grass grows as an annual in much of the United States, being hardy only to USDA planting zone 9, or the southern portion of the country. This warm-season grass produces burgundy leaves and purple flowers profusely from June to frost. It reaches 3 to 4 feet at maturity, and so adds height to any garden border. Purple Fountain Grass is widely marketed for use in containers. Tuck a Purple Fountain Grass just about anywhere, including desert and rock gardens.
Feather Reed Grass
From Europe, feather reed grass forms a clump of medium green foliage. Karl Foerster is the most widely grown cultivar in this group. It is one of a handful of ornamental grasses that tolerates heavy, wet soil and shade, though it prefers sun. The foliage achieves a height of 3 feet and the stalk reaches 6 feet, yielding pink flowers that turn gold at maturity. This cool-season grass is also valued for its slow-spreading habit and straight vertical growth. It fits in narrow garden spaces and pond gardens. Karl Foerster is disease resistant and only requires trimming in spring before new shoots appear.