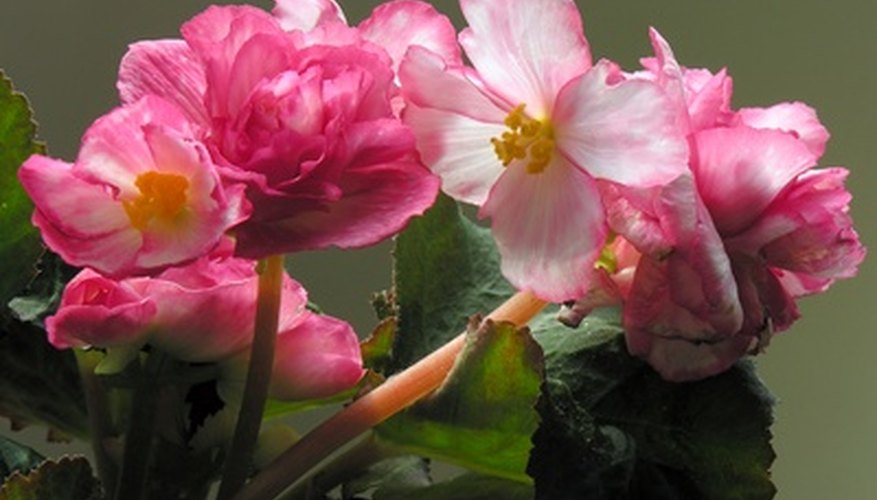 The true name of the cultivar rose petticoat begonia is Nonstop Rose Petticoat and is a hybrid begonia that produces larger-than-normal pink and white flowers. The "nonstop" part of its name is well-deserved as the petticoat begonia will bloom all summer. It grows to heights of 6 to 12 inches, making it an excellent plant to place in the middle of a mixed hanging basket. The rose petticoat begonia is hardy to USDA zones 9b to 11.
Plant the rose petticoat begonia in a lightly shaded area that avoids bright, direct sunlight; too much sun or shade will cause it to stop blooming.
Plant the rose petticoat begonia in equal parts of perlite and sphagnum peat moss.
Water the rose petticoat begonia until it drains from the bottom of the pot. Allow the top 1 inch of soil to dry out before watering again. Never allow the pot to sit in water and don't get water on the leaves. This will help to avoid powdery mildew, a fungal disease.
Deadhead flowers to stop seeding.
Apply 15-30-15 fertilizer weekly during the plant's growing season. Follow the label directions for dosage. Water until it drains from the bottom of the pot before applying fertilizer.
Dig up the begonia tubers in the fall. Gently wash them, allow them to dry and store them in peat moss or sand in a shady area with temperatures between 45 and 60 degrees F, according to horticulturalists at Michigan State University.