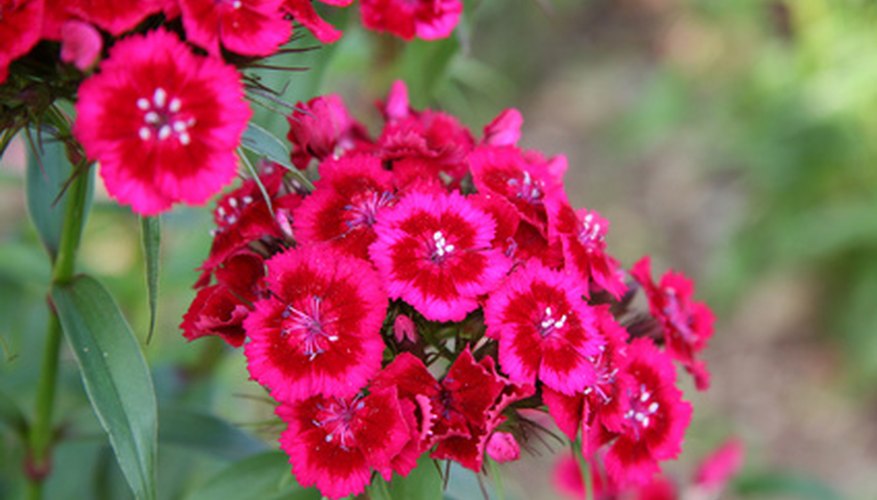 Phlox comes in a wide variety of plants ranging from tall uprights to creeping mounds. The phlox family also includes annual plants that grow to a height of 2 feet. Annual phlox blooms from April to June and retains foliage throughout the rest of the growing season. Annual phlox produces red flowers that will bloom continually for a two-month period with proper, consistent pruning. Cutting back phlox requires assessment of the condition of blooms to remove dead blossoms while retaining enough foliage to keep the plant looking healthy.
Allow the plant to produce blooms as it normally would in the spring. Flowers will appear in bright pinks and purples atop long stems that can reach up to 2 feet in height. Butterflies flock to these flowers and serve as the primary pollinators of the annual phlox. Allow the flowers to remain on the plant long enough to benefit these insects and promote future seed gathering.
Look for indications that flowers are dying off. Don't attempt to trim the plant back until browning flowers appear over two-thirds of the plant. Never shear the plant in an effort to complete the pruning task quickly. Shearing limits the gardener's ability to control the shape of the plant.
Use the pruning clippers to trim individual stems back below the dead flowers. Clip back 2 to 3 inches down the stem directly above a healthy leaf. This cutting method will allow the plant to retain some shape and showcase the foliage for the remainder of the season.
Remove the clipped flowers and stems from the garden bed and dispose of these clippings in the compost pile or in yard waste bags. Leaving debris in the garden can invite pests such as insects and rodents that feed on plant matter.