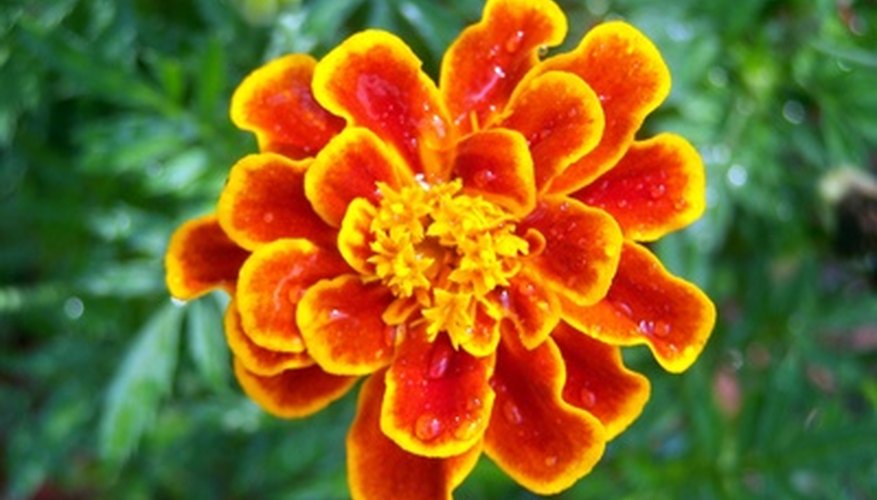 Perhaps the most popularly grown annual flower, marigolds (Tagates spp.) come in varieties from 6 inches up to 4 feet tall. Their flowers can be single or double, in bicolors or in a single color in all shades of yellow, gold, orange and rust. The shorter varieties are excellent grown in containers. They begin flowering early in the season and continue until killed by a hard freeze in fall. Marigolds often survive light frosts. They are prolific self-seeders and the seeds are easy to collect.
Ageratum
With its tiny purplish blue flowers, ageratum, or flossflower (Ageratum houstonianum), really pops in a container garden. This is especially true when planted with yellow or gold flowers like marigolds, because the colors are opposite on the color wheel. Ageratum produces groups of tiny spiky flowers that bloom from late spring until killed by frost in autumn. Plant them near the edge of the container and they will trail over the edge, softening the container's look.
Annual Baby's Breath
A little-known annual variety of the more common perennial variety used by florists, annual baby's breath (Gypsophlia elegans) produces larger flowers than the perennial variety with a single row of petals. It is an early bloomer and will continue blooming all summer long. It prefers full sun and is adapted to a wide range of soil types. Tuck a few plants among marigolds in the center of your container and they will fill it in, making it appear as elegant as a cut flower bouquet from a florist.
Dusty Miller
Grown primarily for its silvery foliage, dusty miller (Senecio cineraria) is an annual that grows 6 to 12 inches high, depending on the variety. It has palmate leaves, which look like miniature hands covered in downy silvery fuzz. Some varieties have more finely laced foliage than others. Dusty miller prefers full sun and well-drained soil. It makes an excellent container plant and is widely planted in window boxes and container gardens.