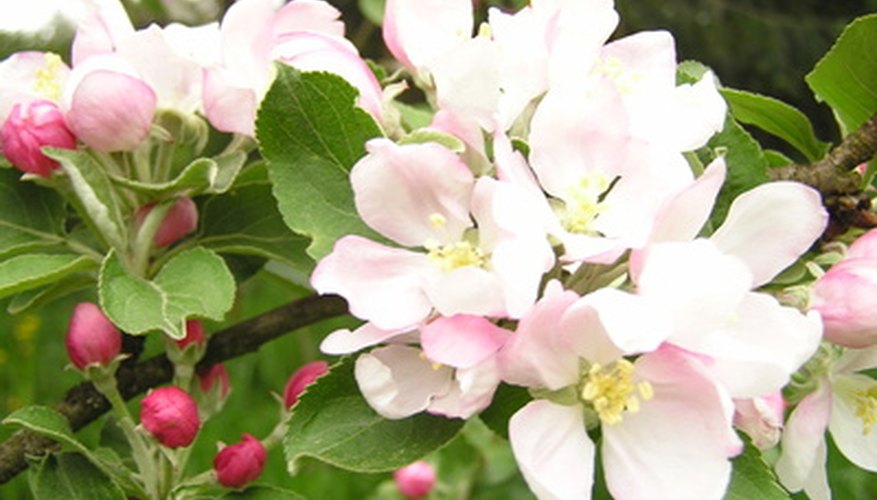 pink apple blossoms image by jacinda richman from Fotolia.com
The crisp crunch of an apple from your own apple tree offers gardeners a pleasure beyond words. With hundreds of apple tree varieties bearing fruit from mid summer to late fall , there's bound to be a tree to perfectly suit your needs. First decide on what variety you want to plant, then get ready to plant and enjoy some tasty fruit from your own trees.
Cross-pollinating vs. Self-pollinating
Most apple trees require cross-pollination, meaning they require another apple tree with which to pollinate; otherwise, the tree will not bear fruit. This means you need to plant two trees. Self-pollinating trees do not require another tree to set fruit, making them perfect for gardens limited in size.
Planting
Apple trees grow well in USDA hardiness zones three through eight, so make sure you can grow the trees in your area. Once you've selected the best apple trees for your yard, plant them in a sunny location in well-drained soil. Water the tree thoroughly, and apply 2 to 3 inches of mulch to preserve moisture. Make sure to water the tree very few weeks, especially during the hottest parts of summer, until the tree is well established.
Pruning and Training
During your tree's first summer after new growth reaches 3 to 4 inches, you need to select one upright shoot near the top to be the leader. Remove all shoots growing in the 4 inches below this leader. This allows one branch, the leader, to grow upward while the other branches grow outward--perfect for bearing fruit.
Fertilizing
While some plants thrive with a good dose of fertilizer in their planting holes, apple trees do not. Instead, fertilize the trees with a cup of high nitrogen fertilizer about a month after planting. Continue this process in May and June, and repeat it for the first three years of the plant's life. Once your trees start to bear fruit, complete this process once a year in early spring.
Spraying
To prevent disease and pests from limiting your apple harvest, you may need to spray your trees. If your trees seems to have spots on the leaves or powdery mildew on the branches or blossoms, spray fungicide on the tree until about mid-June. If insects seem to be bothering your trees, one of the safest ways to handle the problem is to hang sticky traps to capture the offenders.