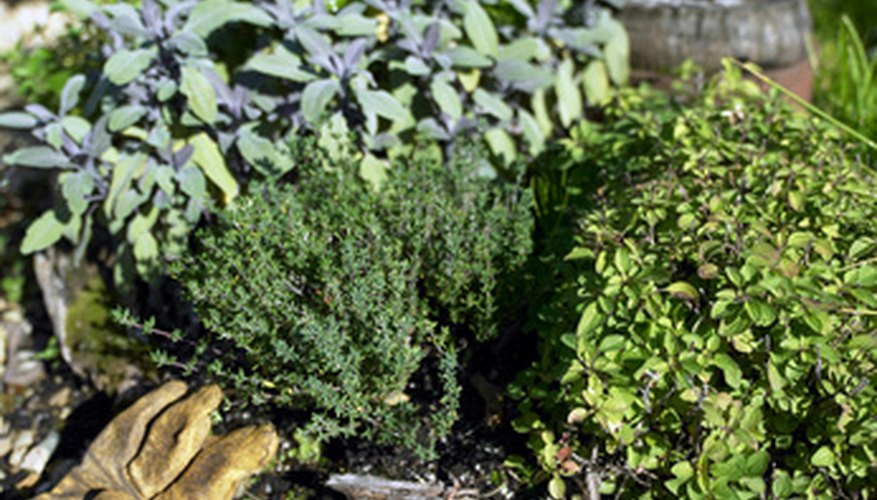 When the high temperatures of summer begin to drop, there is a wide range of cool-season herbs to grow in the fall. Herbs are classified as perennial, biennial or annual and typically require full sun to grow, although some cool-season herbs like chervil and dill tolerate partial shade. Cool weather herbs like parsley and cilantro prefer milder temperatures and cool soil to grow. Planted among an herb garden or tucked into a flower pot, these herbs are ideal for flavoring your favorite soups and salads.
Chives
Chives are a perennial herb that sprout up every year fuller and taller. They require full sun to partial shade to thrive. Chives grow in small clumps that grow up to 12 inches tall and wide, making for bright mounds throughout the landscape. Beginning in spring, chives flower to produce a white or purple flower at the end of each cluster. Chives can be divided in the winter so as to increase the number of chive clumps around the landscape. To harvest chives, snip back the spears down to the ground to prevent brown foliage mixing in with fresh shoots. Chives are ideal in soups and spreads, as well as dried to store away and use at a later date.
Fennel
This full and bushy perennial grows up to 5 feet tall and 12 inches wide, creating a striking herb to grow in the back of the garden bed for height. The textured foliage is lacelike and prefers full sun and moist, well-drained soil. The entire fennel plant is edible and the seeds that are often used to flavor sausages and other meats.
Winter Savory
Winter savory is a perennial herb that grows well in sandy soils. This mound forming fall favorite grows up to 24 inches in height and 18 inches wide. Winter savory has dense dark green leaves that contrast with the white flowers that top each stem. Winter savory is ideal planted along a front bed or window box because of its compact form. Winter savory prefers full sun and well-drained soils. It is also known to have a peppery flavor and is often used to flavor fish and stews.
French Tarragon
French tarragon is a hardy and fall-loving perennial. It has slender dark green shiny leaves that are upright in form and very fragrant. The leaves grow up to 2 inches long and have tiny pale green flowers that emerge in spring. Their compact shape grows up to 24 inches high and 12 inches wide. Tarragon requires full sun and thrives in dry soils. Grown for their anise flavor, tarragon leaves are ideal in soups and sauces.