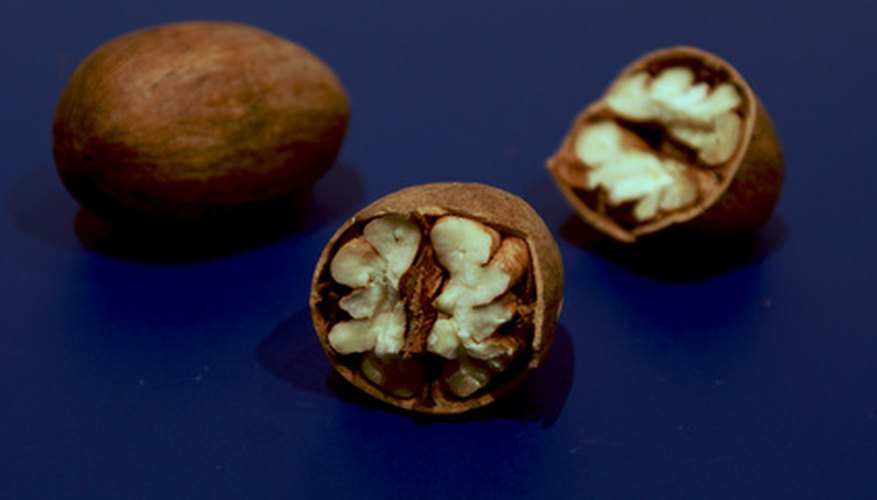 The pecan tree is the state tree of Texas, and some variety grows well in every part of the state. Texas is divided into east and west by Interstate Highway 35, and some varieties do best east of that dividing line while others grow better to the west. This is because humidity levels increase drastically east of I-35, and some varieties that prefer drier climates are prone to mildew problems east of the interstate. Regardless of the variety selected, pecan trees are planted in the same way throughout the state.
Choose a pecan tree that is 5 to 6 feet tall growing in a container. If choosing a larger tree, look for a container that is taller than the normal planting container and accommodating the large taproot that forms on older trees. A large tree in a shallow container most likely had the taproot cut so that it would fit in the container. This could cause the tree to die in one or two seasons. Therefore, a smaller tree is best if you are purchasing the tree from a nursery or box store garden center.
Find a planting place that has sufficient room for a mature pecan tree. A pecan tree can grow to 60 feet tall and 30 feet wide and needs plenty of sunlight. Keep in mind that a pecan tree emits a sticky substance during the summer that collects on anything located under the tree, such as a driveway, building or car. In addition, the catkins or flowers needed for pollination fall freely in the spring and can be messy.
Dig the hole for the pecan tree deep enough that the tree will be planted at the same depth it is planted in the container. Dig the hole twice as wide as the tree's root system.
Place the tree in the planting hole, and add the same soil that was removed from the hole. Mix the soil with water to create a slurry as you add it into the planting hole to prevent air pockets from forming around the root system. Remember to keep the root system at the same level it was in the container. If the tree has a graft, or an offset area where two varieties were grafted together, do not plant the graft below the soil's surface.
Add a 1-inch layer of mulch over the root base of the newly planted pecan tree. Leave a 1-inch space between the mulch and the trunk of the tree so that mildew cannot spread to the tree from the decaying mulch.