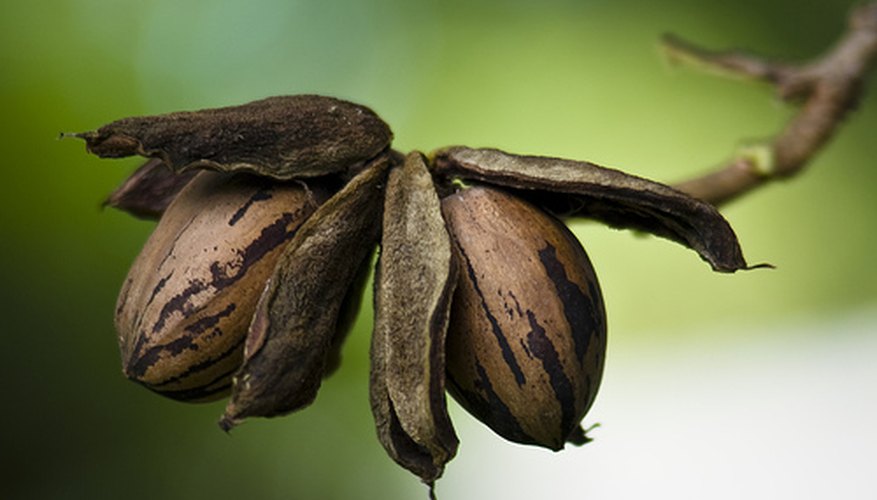 A pecan tree is a deciduous tree of the hickory species, which was originally native to Mexico but is now present across most of the world, including Europe, Africa and Asia. Pecan trees must be grafted in order to produce consistent, quality pecans, so purchasing a grafted sapling from a nursery is the best way to start growing a pecan tree in your yard.
Purchase a five- or six-inch pecan sapling at your local nursery. Although pecan trees are most popular in the Southern states, some hardy varieties like the Hardy Pecan can grow in most areas of the United States, including the Northeast.
Plant your sapling in February, March, or April. Plant once there is no chance of frost in your area. For Pennsylvania, this may be in April, while in Florida, this is more likely during the month of February.
Soak the roots in warm water for three hours before planting the tree in the yard. Tie a piece burlap around the roots, then place the root ball in the water. Fill a clean bucket or trash can with water and place the root ball inside.
Keep the wet burlap around the tree roots when you take it out of the water. This helps keep the roots moist and protects them from the elements while you are preparing to plant the pecan tree.
Dig a hole to accommodate all the roots comfortably. Remove the burlap and gently place the tree in the hole. Gently pack the remaining dirt around the tree until it is 3/4 full, then water the tree. Fill the rest of the hole, then water the tree again so the soil is adequately settled and the roots are moist.
Things You Will Need
Grafted pecan sapling

Burlap

Twine

Bucket or trash can

Shovel
Tips
Remove all weeds that grow around the base of the tree, especially in the months after planting.

Wrap the base of the trunk in aluminum foil to prevent sun damage to the delicate lower portion of the new tree.