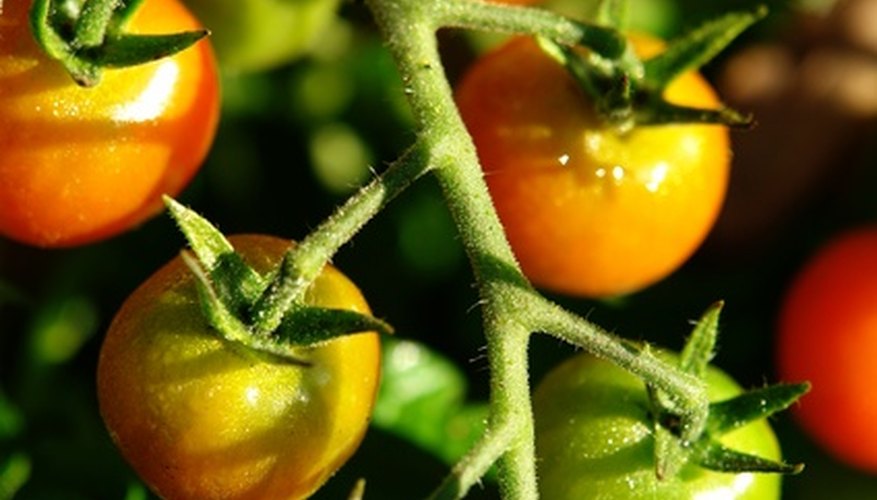 It's hard to beat the experience of biting into a freshly picked, sun-warmed organic tomato from your own garden. With the rising concerns about the safety of chemical fertilizers and pesticides, organic produce is more popular then ever. Not only does it taste delicious, you can also be sure that you and your family are not consuming residual toxins. Growing your own tomatoes is a healthy and delicious project the whole family can enjoy.
Dig up the soil in your organic garden bed and mix it with organic compost. This will loosen the soil and add important nutrients.
Dig holes in the soil that are slightly larger than the pots your organic tomato starts are in. Holes should be 1½ to 2 feet apart. Plant tomatoes as soon as the ground warms up and the winter frosts have passed.
Pinch extra leaves from the bottom 1/3 of your tomato plants. The planting holes should be 1/3 as deep as the entire tomato plant.
Turn the tomato starts on their side and, gently grasping the delicate stem, wiggle the plants from the starter pots.
Place your tomato plants in the prepared holes, burying them 1/3 of the way up the stem. Fill in the soil around the plants, making sure to eliminate any air holes.
Water the plants thoroughly and put tomato cages around your new plants to give them support as they develop.
Spread a thick layer of organic straw or other organic garden mulch on the garden bed to keep weeds down and improve the soil's moisture retention.
Fertilize your organic tomatoes with fish emulsion, seaweed extract fertilizers and plenty of rich organic compost.