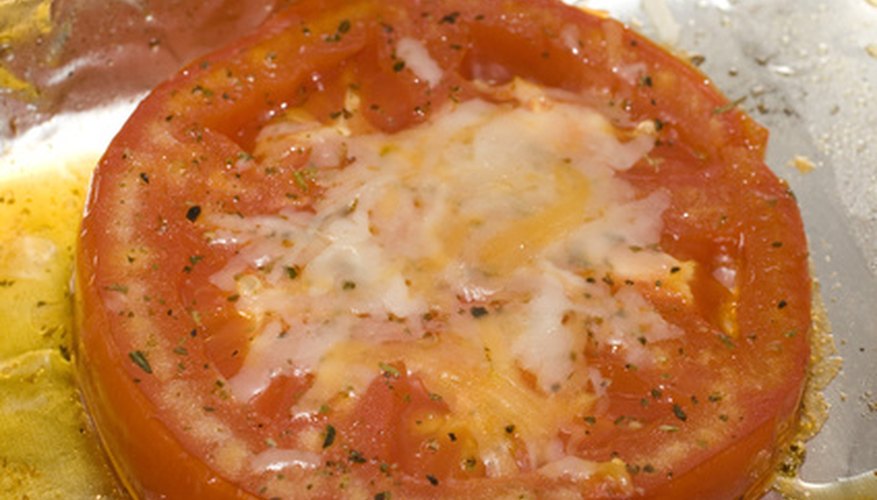 'German Johnson,' a large beefsteak-type heirloom tomato, typically produces fruits over a pound in size that are pink with low-acid content, The producers of 'German Johnsons' proclaim it as one of the parents of the fabled Radiator Charlie's 'Mortgage Lifter' tomato, a popular, heirloom variety tomato created by a man during the Great Depression, who later paid off his mortgage with the profits from this tomato's seed sales. As with all tomatoes, wait to plant this variety in the ground until all chance of frost has passed.
Till your garden area with a rake or rototiller. Dig the tines into the soil until the soil loosens down to 8 inches. Work in rows, turning at the end of each row and proceeding to the opposite end.
Add a 1 to 2 inch layer of compost on top of the soil. Use the rototiller or rake to mix the compost into the soil. Retill the area, working down to 8 inches to combine the topsoil and compost.
Water the garden area with a hose until moist.
Dig holes for the 'German Johnson' tomato plants, using a shovel, deep enough to place the roots of the plant. Space each hole 36 to 48 inches apart.
Place each 'German Johnson' tomato plant in a hole. Spread out the roots of the plant and pack the soil around the roots and up to the base of the plant.
Place a strong tomato cage around the perimeter of each plant. Choose a metal cage at least 6 feet tall; German Johnson tomatoes are known to grow 8 feet high.
Water plants daily, unless the soil already appears moist.
Tie the branches of the plants with a piece of twine to the cage as it grows
Use a fertilizer formulated especially for tomatoes, available at nurseries and garden centers. Follow the directions provided with the fertilizer to determine how often to fertilize and how to mix the fertilizer.
Things You Will Need
Rake or rototiller

Compost

Tomato cage

Shovel

Tomato fertilizer

Twine
Tips
'German Johnson' tomatoes typically take 80 days to mature, according to Ohio State University Extension.

Seed from 'German Johnson' tomatoes can be saved to produce more of the same variety next season, as the plants are open-pollinated, rather than hybrids.