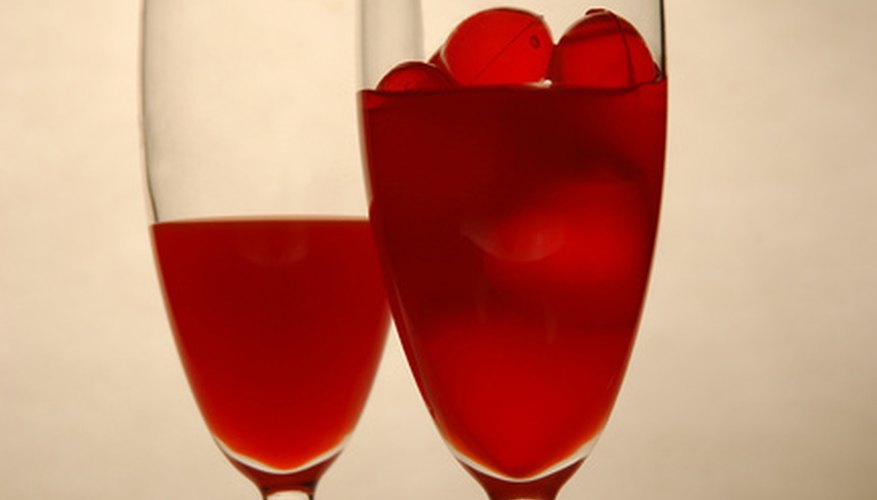 Rose syrup is a gourmet delicacy that high-end restaurants use in desserts, sauces and cocktails. It's a sweet and delicately flavored sugar syrup that adds a subtle flavor to many foods and beverages. If you have a rose garden that has a lot of healthy blooms, pick a bowlful when they are completely opened. Try this gourmet treat for yourself, and make some for gifts as well.
Fill a heavy pot with red rose petals. Add enough water to just cover the petals. Put the pot on the stove, and heat until just simmering.
Simmer the roses and water for 1/2 hour. Remove the petals from the rose water and discard them. Add more fresh petals to the same water, adding as many petals as the water will hold. Simmer for another 1/2 hour.
Continue simmering rose petals and replacing them until the water has a deep pink or light red color and the liquid has a distinctive rose scent. The more petals you boil down, the stronger the rose water will be.
Strain the finished rose water into a bowl and allow to cool to lukewarm. Measure out 1 quart of rose water back into the pot. Add 2 lbs. of granulated sugar. Stir over very low heat until all the sugar has dissolved and there are no crystals anywhere in the pan. Do not allow the water to simmer or boil while stirring; keep the heat low enough to just warm the liquid.
Remove the pot from the stove, and allow the rose syrup to cool. Pour the syrup into attractive bottles, and store in the refrigerator.
Things You Will Need
Rose petals

Heavy pot

Colander

Bowl

Sugar

Glass bottles
Tip
This method can also be used with lavender flowers to make lavender syrup.
Warning
Make sure to only use rose petals that have not been sprayed with pesticide. Organically grown roses are the best and safest.
References
Resources