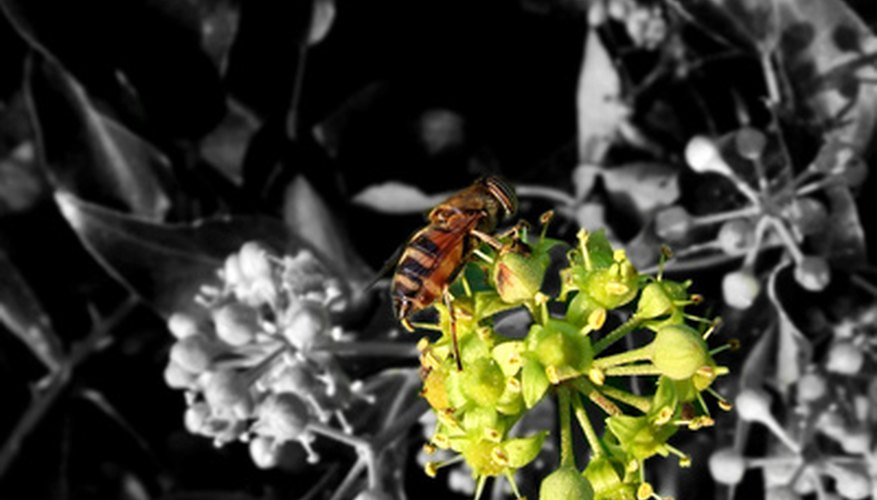 In order to reproduce, many plant species depend on bees to transfer pollen from the male parts of one flower to the female parts of another flower on the same kind of plant. This transfer of pollen is called pollination, or fertilization, and allows the pollinated plant to produce fertile seed so it can reproduce. Bees cannot see red and are more attracted to flowers that are yellow, blue or purple.
Cosmos
Cosmos is available in varieties that bloom in yellow, orange, white, or purple. It is a warm season annual that reseeds freely. In the Southern U.S., it can reseed and bloom several times during the growing season. Cosmos plants grow stronger and produce more flowers if the plants are spaced at least six inches apart. If plants grow too close together, they become spindly and fewer flowers are produced.
Cosmos grows best if planted in full sun. Although drought tolerant, cosmos produces more blooms if provided occasional moisture.
Zinnia
Zinnias are blooming annuals available in a wide variety of colors, shapes, and sizes. There are low growing mounding types and tall types that can grow to a height of three feet or more. Zinnias are easy to grow from seed and begin blooming in about 60 days from planting. Plant zinnias after danger of frost has passed in the spring because zinnias are not frost-tolerant.
Zinnias bloom repeatedly as long as the blooms are cut off the plants after they begin to fade. Cut zinnia flowers above the second leaf set counting down from the flower to promote bushier growth. Zinnias are considered drought tolerant, but bloom best if given occasional water.
Petunia
Petunias grow profusely in the spring after sprouting in the cooler weather of late winter. The new growth is tolerant of frost, but not the mature plants. Petunias can be planted in the garden, where they can sprawl, or in a container or hanging basket. Avoid red petunias because bees are not as attracted to red, but there are many color varieties to choose from.
Although they reseed freely, it is best to start petunias in the garden with purchased plants. The seed that falls to the ground from purchased plants will be more adapted to your soil and will sprout the following winter or early spring.
Basil
Basil is considered an herb and is popular for use in Italian dishes. Some varieties with purple leaves that make interesting garden specimens. Allow the plants to flower to attract bees. After flowering, the plants produce numerous hard black seeds that germinate quickly if conditions are right. Basil likes warm and moist, but not wet, soil and consistent moisture throughout the season. It is an attractive annual plant with few pest problems.