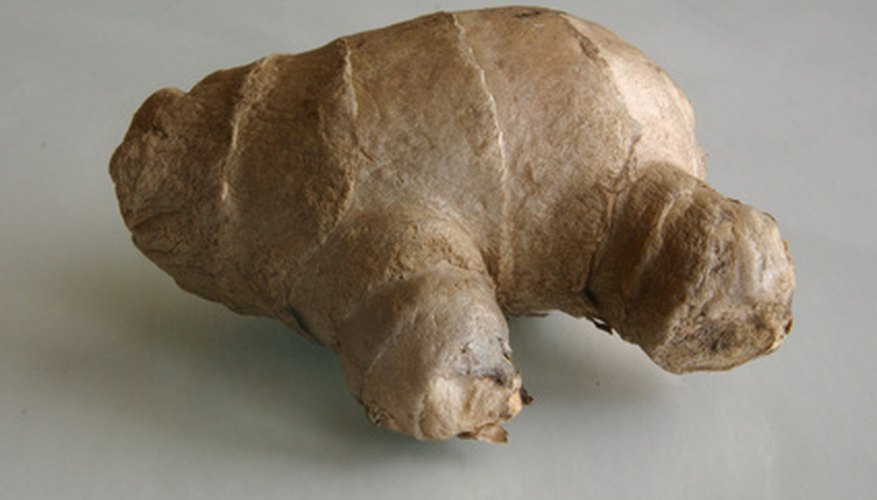 Fresh ginger root is a rhizome that's simple to grow and store. The spicy herb is used to flavor soups, baked goods and stir fries, among other dishes. Growing fresh ginger is a task that can be accomplished indoors or out, though you will want to keep the plant inside once the colder weather sets in. Once harvested, fresh ginger molds fairly quickly if it gets wet. Make sure to keep it dry and cool to optimize its lifespan and preserve its fresh flavor.
Place the fresh ginger plant in a sunny, warm spot either outside or on a windowsill. Mist it every few days with a spray bottle full of water (as soon as the soil dries out completely). After the plant sprouts, water it daily with the spray bottle.
Harvest the ginger after it has been planted for about a year. Use a small spade to dig up the rhizome beneath one of the shoots. Rinse the dirt off of the ginger root and dry it completely.
Store fresh ginger root in the refrigerator, wrapped tightly in a layer of plastic wrap. It will last about a month in the fridge; discard the ginger if it appears moldy or mildewy.
Freeze the fresh ginger root if you cannot consume it all within a month. Peel the ginger with a vegetable peeler, then grate it finely with a microplane grater. Mound the grated ginger in a line on a piece of plastic wrap, then roll the ginger up like a piece of candy. Twist the ends closed and secure them with twist ties. Stick the ginger in the freezer until it's needed. It will last about six months in the freezer.