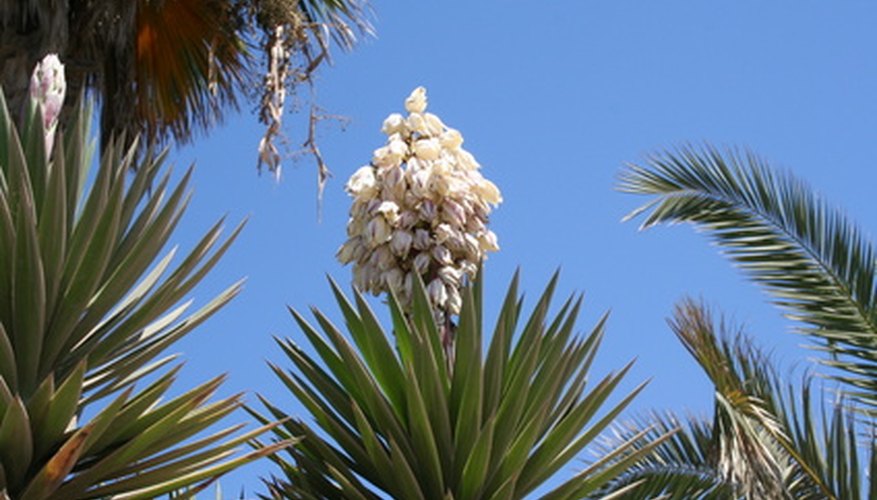 yucca - flourishing image by Dagmara Czechowska from Fotolia.com
Edible yucca root, or cassava, belongs to the family Agavaceae, with 40 to 59 species, some of which are edible. Yucca is native to hot, arid regions of North, Central and South America. Think of potatoes when using it in a recipe, as it has the same versatility. Yucca has been a mainstay in Hispanic diets for centuries. Relatively new to the palates of most people in the U.S., you may be able to find it in the frozen food section, if your store does not carry the fresh root.
Peel the yucca root. Microwave the fresh yucca root for approximately one minute, before trying to peel it. The outer skin of some varieties is tough and hard to peel and like squash, this will make the process of peeling the outer skin from the yucca easier. Frozen yucca root is usable directly from the package without peeling.
Place the yucca root into a pan and add enough water until the root is just covered. Place a lid on the pan and simmer for approximately 20 minutes, or until the root has become tender and is no longer hard and tough.
Remove the yucca from the pan and place on a paper towel to absorb the excess moisture and allow it to cool enough for handling. Preheat your oven to 350 F.
Spray a baking pan with non-stick cooking oil so the yucca does not stick to the pan and break apart while you're removing it after cooking.
Cut the cooked and cooled yucca into three-quarter inch thick strips. Gently coat the yucca with a small amount of olive oil and arrange evenly in the baking pan, as you would with potatoes.
Sprinkle the yucca with garlic powder, seasoning salt and pepper, and place in the oven. Allow the yucca to bake for approximately 20 minutes, or until it begins to brown slightly. Remove the yucca from the oven and enjoy.
Things You Will Need
1-pound fresh or frozen yucca root

Microwave

Water

Paper towel

Paring knife

Oven

Baking pan

Non-stick cooking oil

Olive oil

Garlic powder

Seasoning salt

Pepper
Tips
When using fresh yucca, be sure to use it within several days of purchase for best results.

Be creative and sprinkle the yucca with any herbs to your taste, before baking.
Warning
Do not use fresh yucca from someone's yard unless you are sure it is an edible variety because some species of this plant are poisonous.