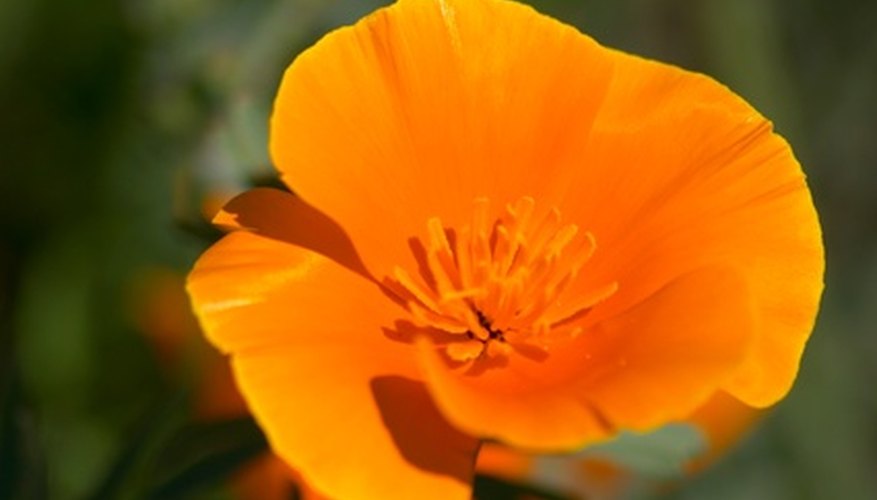 The California poppy, Eschscholzia californica, is a short-lived perennial usually grown as an annual since it flowers well the first year. If you live in USDA zone 7 or warmer you can expect it to live over during most winters. The species has gold to orange flowers, but you can find seeds of plants with cream, pink, purple, pure yellow and orange-red blossoms. The leaves are attractive clumps of gray-green, feathery leaves rising out of a deep, carrot-like taproot. It is quite drought-tolerant.
Choose a sunny place for your patch of California poppies. The soil can be sandy or heavy, but water should drain through easily. These plants do not like waterlogged soil. One packet contains 100 to 400 seeds, enough to cover two to eight square yards.
Dig your soil with a garden fork, loosening the ground to a depth of a foot. Rake the surface smooth. Do this as early in spring as the ground can be worked, usually February or March.
Scatter the seeds across the surface of the soil and cover with 1/4 inch of fine soil, sand or potting soil.
Water the surface of the soil whenever it appears slightly dry until the seeds germinate, a week to three weeks. Frequent light sprinklings are best, since only the top 1/2 inch of soil needs to be moistened.
Thin seedlings to 6 to 12 inches apart and reduce watering to a minimum, allowing the soil to dry to a depth of several inches before watering again.