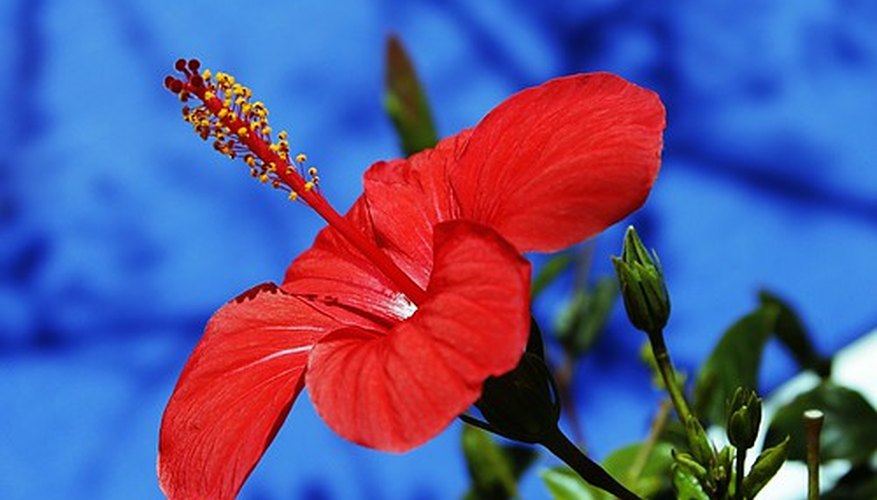 Image by Flickr.com, courtesy of Doug Wheller
Available in seven species ranging in size from a small shrub to taller bushes, hibiscus (Hibiscus) are ubiquitous in warmer states like Florida but can grow in many zones, depending on the species, according to the 1997 Sunset National Garden Book. Some plants can survive freezing weather if the roots are protected, but generally thrive in full sun with regular watering. Hibiscus are available in a variety of colors, including white, pink, purple, yellow and red, and have a showy, delicate flower.
Where to Plant
Select a spot that gets at least six to eight hours of sun, according to AboutHibiscus.com. Though hibiscus can grow in just about any kind of soil, preparing soil by mixing in organic mulch will help a plant thrive. Depending on the variety, hibiscus can grow up to 30 feet tall, though most of the taller varieties top out between 10 to 15 feet. Select a spot where growth will not be inhibited.
How to Plant
Plant the hibiscus in a hole that covers the roots as much as they were in the container, about 6 inches below the surface. Cover the roots with soil and tamp down. Soak the roots with water several times immediately after planting.
Food and Water
Water hibiscus liberally after planting until the roots become established. The soil around the plant should be damp at all times. When well-established, about three months, hibiscus thrive with regular watering, but can tolerate dry soil for short periods of time. Fertilize with a 10-20-10 fertilizer every spring.
Pruning
Hibiscus require little pruning, though you may do so to encourage new growth or shape. Pinch back early in the growing season. This is also a good time to trim out dead limbs. Spent blooms should be picked off the plant.
Cold Protection
Hibiscus in colder zones should be protected from near-freezing or freezing temperatures by covering with a sheet and mulching around the roots. If the plant is in a pot, bring inside during coldest weather to avoid damage. In snowy areas, where the hardiest varieties can survive, cut back plant to 12 inches above the ground after the first frost. When ground is near frozen, mulch heavily.
Resources