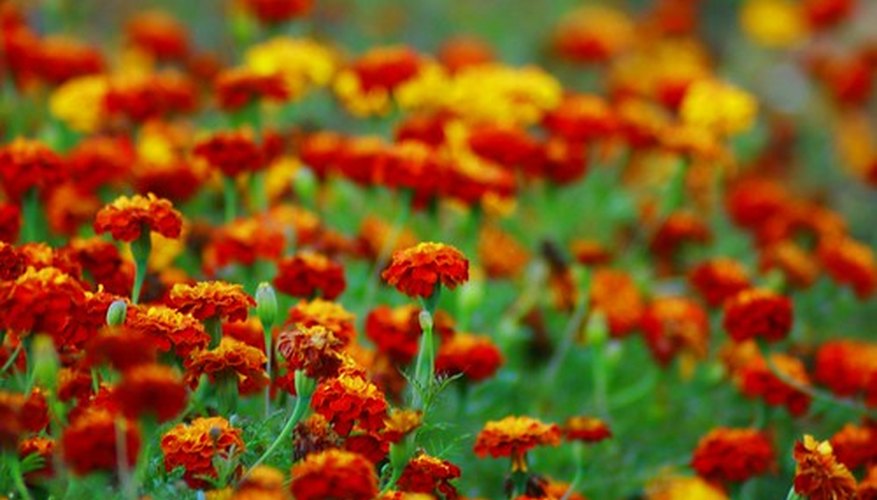 Image by Flickr.com, courtesy of Swaminathan
Marigold plants are a favorite among home gardeners. The plants are hardy, and the flowers come in an array of vibrant colors. The flowers are also a favorite among vegetable gardeners, because they are natural repellents for the pests that commonly infest tomato plants. Marigolds have been hybridized by horticulturalists, and many different hybrids of marigold seeds and plants are available for home gardeners.
African Marigolds
African marigolds have big double flowers that range in color from yellow to orange. The blossoms grow as large as five inches in diameter, and the plants grow as tall as 3 feet. African marigolds are heat and cold tolerant, and do well planted directly into flower beds. Some plant enthusiasts refer to the African marigold as the "American" marigold.
Marigold Snowman Hybrid
Horticulturalists at Burpee (a seed company) recently developed a solid-white marigold hybrid. The hybrid is called the marigold Snowman Hybrid. The blossoms are large, ruffled, and snow white. Blossoms measure approximately 3 inches in diameter. The stems are strong. These marigolds grow up to 2 feet tall, and can be planted directly in the garden, or in a container.
French Marigolds
The French marigolds are smaller, bushier plants than other varieties of marigolds. French marigolds grow flowers with a diameter of just 2 inches. This hybrid ranges in colors from yellow to orange to a deep mahogany. Some of the French marigolds flowers are two-toned. The plant only grows 12 to 18 inches high. This hybrid typically lives from spring to the first frost.
Triploid Hybrid
The triploid hybrids are known as mule marigolds, because they are unable to produce seeds that germinate. Instead of being grown from their own seed, triploid marigolds are created as a cross between African and French marigold hybrids. The result is a very hardy plant that blooms several times per growing season.
Signet Marigolds
Signet marigolds differ from other marigolds. The plants are bushy like the French marigold, but the leaves are fine and lacy. The plant is covered with small yellow or orange blooms throughout the summer. The petals of signet marigolds are edible, and are typically eaten in salads or as garnish for meats because of their spicy flavor.
Resources