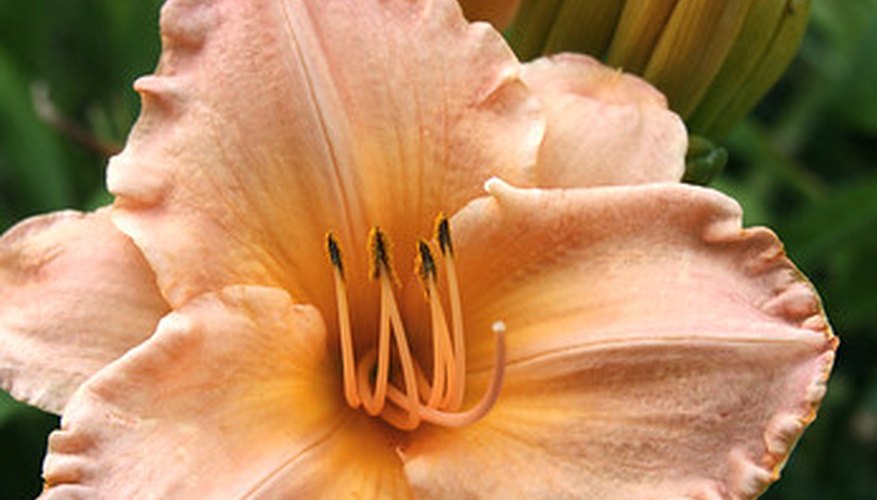 Daylilies grow across hardiness zones in all kinds of conditions. They survive long stays in plastic bags and grow atop compost heaps. They withstand heat, full sun and deep shade. These hardy perennials can enjoy careers in containers, too. Their success depends on their placement in the right location, choice of appropriate variety and a little extra care taken in container culture.
History
A 3,000-year-old Chinese treatise includes medicinal uses of the flower and roots of the plant. The original, tawny daylily traveled to Asia Minor and then to Greece where its lemon-lily cultivar appears around 70 A.D. in a Greek herbalist's work. The third original form, h. fulva Kwanza, materialized in the late 18th century, after the Swedish scientist Linnaeus originated the name hemerocallis fulva. Dr. A.B. Stout, director of the New York Botanical Garden, realized its potential and made the plant his life's work in the 1930's. The modern daylily's variety of form and cultural adaptability is the result of the work of decades of amateur and professional hybridizers in the U.S. and UK.
Functions
Plants grown in gardens can be massed for effect but container plants are most often used as specimens--single plants chosen for their individual beauty. Since daylily bloom is limited, daylilies should be used where their graceful foliage is an asset. They can be used as background, masking or foliage contrast. Containerized daylilies can also be moved around to improve or limit sun exposure
Container Culture
Daylilies, although undemanding guests, require certain conditions in order to perform well in containers. Use a light growing mixture of garden loam, sharp sand and peat or perlite to allow their tuberous roots room to spread. Water them more frequently than their garden cousins; keep soil evenly moist to help plants produce foliage and blooms--each day brings new blooms that require water. Although garden daylilies require little fertilizer, container plants need to replace the limited nutrients available in their potting mixes. Use a slow-release pelleted flower food or dilute liquid fertilizer during bloom season after the first few months of container growth.
Plant Choices
Like any perennial, daylilies have a specific period of bloom. Choose plants with many flowers on each scape or flower stalk--they will have longer bloom periods. Re-blooming plants, such as the stella family of hybrids, can be encouraged to put up new scapes by removing spent ones immediately. Choose plants that will not outgrow their containers or look leggy. Dwarf and semi-dwarf varieties grow 18 to 24 inches tall. Their compact growth provides a tidy background for fanciful blooms, including the delicate spider varieties. Any plant purchased for a container garden should be one that has been grown in the same climate in which it will be planted.
Misconceptions
Daylilies seem to grow anywhere--their adaptability is their key to survival--but their uses are limited in desert or tropical climates. Plants grown in deep shade fail to flower; most varieties need five or more hours of sunlight to bloom well. Many of the wild tawny daylilies along the side of the road today were actually planted there by government departments as part of erosion control projects but many plants also migrated from old gardens. They are so prolific in some states that they are considered invasive because they invade and crowd out native species.