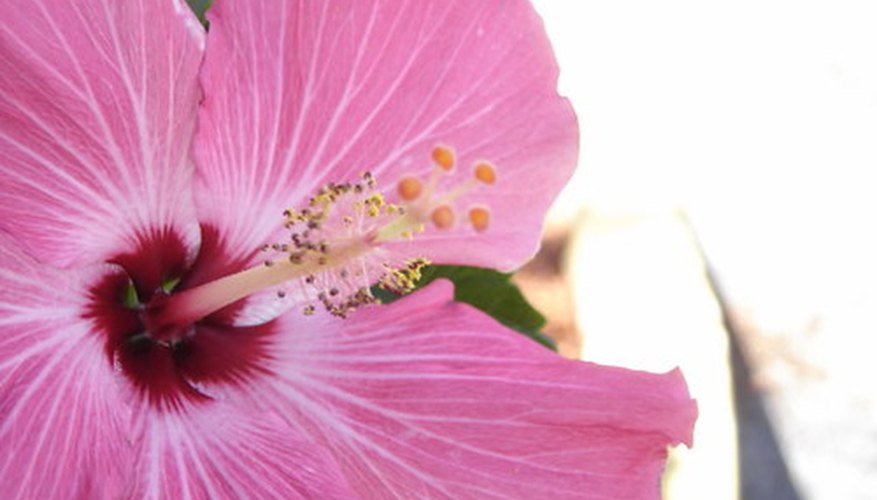 Defining ornamental plants can be quite confusing for even an experienced gardener. Ornamentals refer to those plants with special features such as unique foliage, fruits or fragrance. Confusion arises because gardeners believe that every plant in the garden serves as a decorative ornament in the landscape. Ornamental plants can be evergreens or pruned, shapely shrubs. This type of plant can be a stunning rose bush or a large-bloom hibiscus. Ornamental plants add beauty and visual impact to the landscape.
Transplanting
All plants require transplant the moment the nursery container reaches your doorstep. Ornamental plants require special care since the very features that make the plant unique often result from careful growing conditions. For this reason, you should follow instructions provided with the plant to the letter. Planting depth, water and sunlight requirements, spacing and fertilizing needs are all vital.
Woody Ornamentals
Woody ornamentals generally refer to those plants used in the landscape as shrubs or bushes. This type of ornamental plant may or may not produce flowers and has a strong wood-like main stem running through the plant center. Woody ornamentals include such landscape mainstays as barberry, boxwoods or flowering butterfly bush. These perennial plants return every season slightly larger than the year before to function as anchor plants for the landscape. Woody perennials work best in the home landscape when they are native to the area.
Ornamental Grasses
Grasses have become a gardening rage as a way to conserve water in the landscape. Ornamental grasses also serve as anchors in the landscape when mixed with perennial and annual flowers. These sturdy plants can create a dramatic effect when placed alone, in clumps or when paired with different varieties of ornamental grasses. Ornamental grasses have become a mainstay in the home landscape for the stunning display of stalks and frond-like, wispy flowers.
Trees and Shrubs
Trees and shrubs can be considered ornamental plants used primarily as focal points in the home landscape. Trees chosen for their leaf design or ability to shade the home serve as a building point for the rest of the landscape design. Japanese maple trees or a stately elm functions as an ornamental. Forsythia and crepe myrtle shrubs provide beautiful floral displays at different times in the growing season. Trees and shrubs serve as an interesting focal point in the landscape for many years.
Care and Maintenance
Every plant requires some care to thrive and succeed. Ornamental plants frequently require a little more care than the average flowering perennial or annual plant to retain the features that make them unique. Woody ornamental plants need maintenance pruning and regular watering. Most require some form of fertilizer at least one to two times during the growing season. The most important aspect of the care and maintenance involves evaluating the current growing conditions of a plant. Sunlight changes as shade trees grow and other plants may encroach on an ornamental plant's territory. Monitor the landscape to check that optimum growing conditions exist for each ornamental plant.