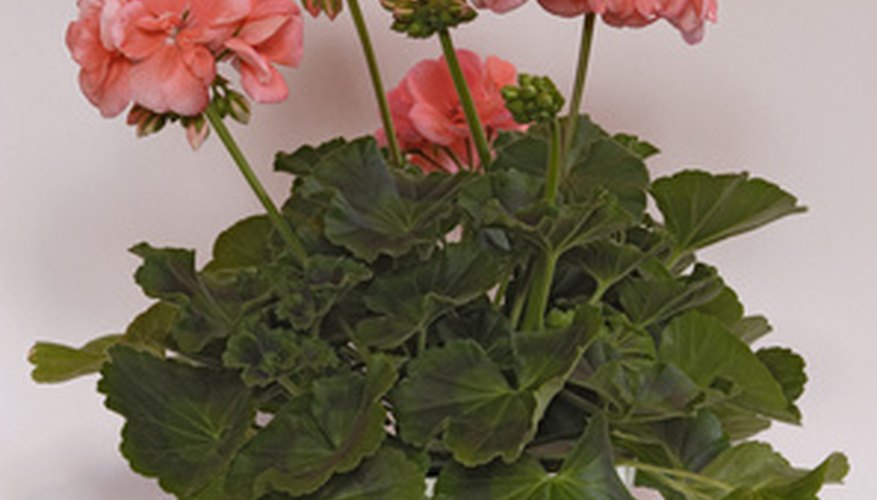 Ornamental flowers come in a wide variety of shapes, sizes and colors. Ornamental flowers, as opposed to native wild flowers, are generally not indigenous to local ecosystems, and they require additional care and maintenance. From common to exotic, ornamental flowering plants are the centerpiece of any garden or landscape.
Flowering Maples
Flowering Maples (Abutilon hybridum) have green foliage and colorful red, yellow, white and orange flowers that blossom mid-summer. Growing 12 to 18 inches in height with a maximum spread of 4 to 5 feet, Flowering Maples prefer moist soil, they are partial to direct sunlight, and they are normally grown indoors as houseplants.
Geraniums
Geraniums (Pelargonium x hortorum) have small green leaves that extend from a multiple stem structure, with bright pink, red and salmon flowers that blossom during the early spring and late fall. Geraniums grow 12 to 24 inches, and they require full sunlight and moist, nutrient-rich soil.
Marigolds
Marigolds (Tagetes erecta) are common ornamental flowers with green foliage and distinctive gold, orange and yellow flowers blooming from late spring through early fall. Marigolds are 8 to 48 inches in height, they require direct sunlight, and they are moderately drought-tolerant.
Petunias
Petunias (Petunia x hybrida) can grow between 6 and 18 inches in height. They feature green-gray foliage with white, purple, yellow and pink flowers that blossom in the spring and summer. Petunias are hardy ornamental flowers that are drought-tolerant, and they can thrive in full or partial sunlight.
Monkey Flowers
Monkey Flowers (Mimulus x hybridus) are small ornamental plants that grow 1 to 2 feet in height with bright and colorful red, yellow and orange flowers that bloom throughout the summer months. Monkey Flowers prefer full sunlight, and uniformly moist and nutrient-rich, organic soil. They also tolerate cooler overnight summer temperatures.
References