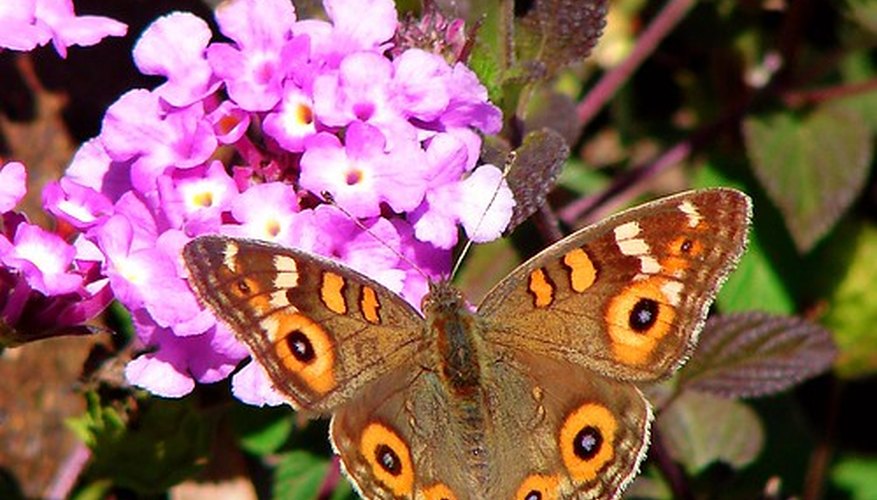 Although considered an annual in most parts of the United States, the Lantana genus boasts many colorful blooming annual varieties and some perennials for warmer climate USDA zones 8 and above. A member of the verbena family, lantana plants are characterized by a medallion-shaped cluster of small blooms rising above shorter foliage. Built to thrive in full sun and heat, these summer bloomers will reward you with continuous color when provided a little extra care during the driest weeks of the season.
Plant Characteristics
Since the lantana thrives in warm climates, most of the 150 or more available species are best treated as annuals in USDA zones below 8. Some varieties will reach heights of 6 feet, forming a mounding bush, while others remain low and compact, spreading 4 feet but only reaching up to 2 feet tall. The flower clusters bloom in single or bi-colors, including purple, yellow, orange, red, pink and white. Trailing varieties are perfect for containers and baskets, while taller species suit beds or containers.
Site Recommendations
Choose a location with full sun and good drainage. To improve annual bed drainage, incorporate 3 to 4 inches of organic matter, such as compost, to a depth of up to 8 inches. When planting in a container or hanging basket, choose a quality potting soil or mix your own with added organic matter.
Planting Tips
Plant lantana starts in late spring, after the soil has warmed and all danger of frost is well past. Lantana will not grow until the winter chill has completely disappeared, so don't be in a hurry to despair if growth is slow in the early days of spring. Allow up to 18 inches between lower-growing species, and up to 2 feet or more for bushier, taller varieties.
Care
Provide additional water during days of prolonged drought to ensure continuous blooms. Fertilize bedded plants once in the spring with a balanced fertilizer, if needed, and up to twice a season for container or basket plants. Avoid over watering and excessive fertilization as these adversely affect growth and blooms. Prune perennial lantana severely in the spring for more profuse blooms all season long. Annual varieties do not require dead heading, but blooming plants will benefit from occasional tip cutting during active growth.
Other Features
Butterflies love lantana, so plant in the open in groups to encourage visitors. The small, dark berries of this genus are poisonous, so plant sterile varieties such as New Gold or Miss Huff to avoid this toxic fruit altogether.