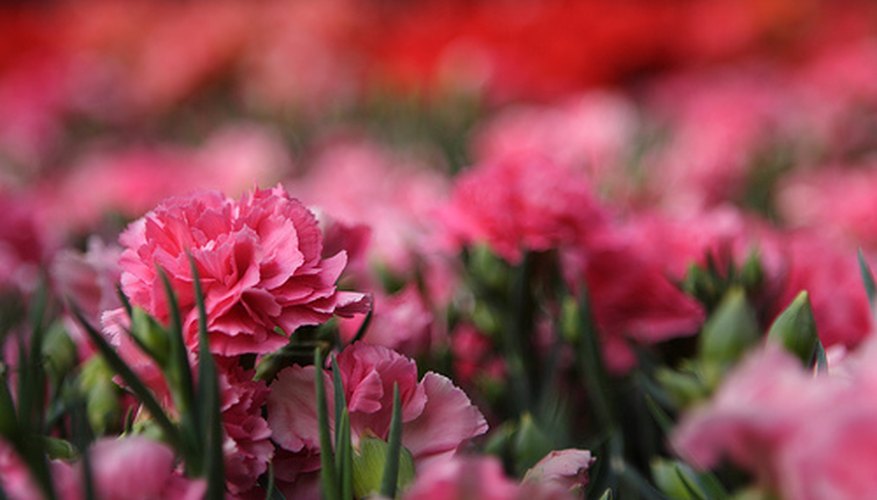 The carnation (Dianthus caryophylluss) plant produces a beautiful, edible cut flower with a spicy clove-like fragrance and taste. Nearly all carnations with long stems and big flower heads seen in the florist trade are grown in specialized greenhouses where light and nutrients are manipulated to encourage longer stems and specific bloom periods. However, for garden color, vase arrangements and everyday use, the carnation is an easy-to-grow flowering plant in the right climate. Relatives of the carnation known as pinks, or dianthus, have a flower head made up of several smaller flowers and are a more common garden plant since they can be grown over a wider geographical area. True carnations grow best in cooler climates, with daytime temperatures in the 50s and 60s and nighttime temperatures in the 40s and 50s. Some varieties are winter hardy south of USDA horticultural zone 5.
Growing Carnations
Find a well-drained place in the garden that gets six hours of sun each day.
Remove weeds, rocks and other debris and rake smooth. Spread a one-inch layer of compost over planting area and gently work into the soil.
Plant carnation plants at the same level they were planted in nursery pots. Planting too deep will cause the roots to rot.
Slowly saturate the area around the plants with water as you back fill the soil to remove any air pockets. Keep the plants damp, but not wet, until they are established.