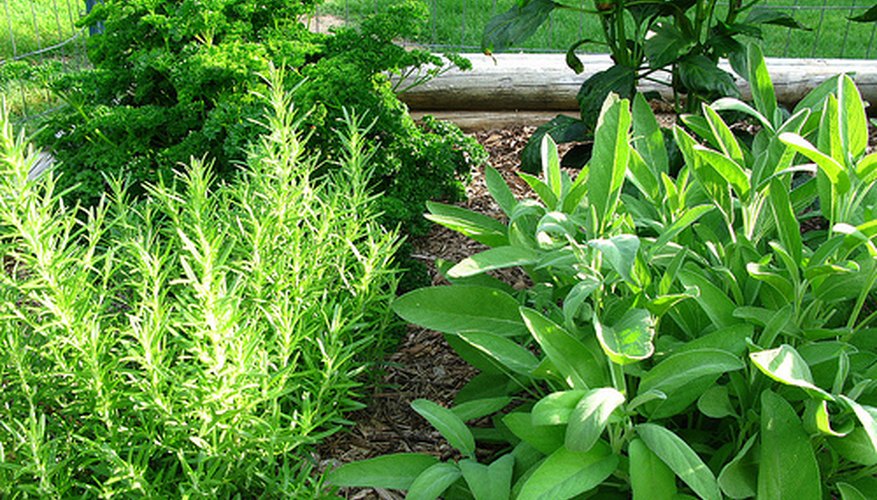 Herbs are easy to grow and are generally disease resistant and not bothered by many pests. You can choose perennial herbs, such as rosemary, that become small shrubs or annual herbs such as basil and dill. Some herbs including mint and comfrey are aggressive in your garden and must be contained to keep them from taking over.
How to Plant an Herb Garden
Select your location. Herbs with heritage from the Mediterranean coast, Mexico and Latin America prefer sunny locations. Some herbs such as thyme, bee balm, chamomile and St. John's Wort need shade, especially in areas with hot summers. All herbs need well-drained soils, according to University of West Virginia Horticulture Division.
Prepare the bed. Herbs are generally not picky plants and do not require extensive preparation of the soil. Clear the space of competitive plants. Till or turn the soil down 4 to 6 inches.
Prepare the soil. If you have fertile, sandy-loam soil, add compost and you are good to go. If your soil is too sandy or has too much clay, amend the soil with packaged top soil, potting mix, peat moss and compost. Mix thoroughly.
Check soil pH. Herbs generally prefer a slightly acid or neutral soil. The University of Nebraska Horticulture Department recommends adding elemental sulfur or aluminum sulfate to lower pH levels but says that large amounts of sulfur are required to make even a small change. The department suggests lime for raising pH levels.
Dig a hole slightly larger than the herb's root ball, leaving space between plants for mature size and a bit of breathing room for air circulation. Spread the roots out gently and place the plant in the hole.
If using herb seeds, soak the seeds overnight before putting them in the soil to facilitate germination. Seeds should be planted to a depth of one to three times the size of the seed. Transplants should be planted at the same depth as they are in their pots or a bit deeper.
Water the plants or seeds in and then tamp down the soil around the plant. Add mulch to maintain moisture in hot or dry climates.
Tip
Plant most herbs in the spring after the danger of frost has passed to give the roots time to become established. Fertilize herb plants lightly twice a year. Pinch off the lower leaves of transplants. Plant them to a level just below that point to promote root development.