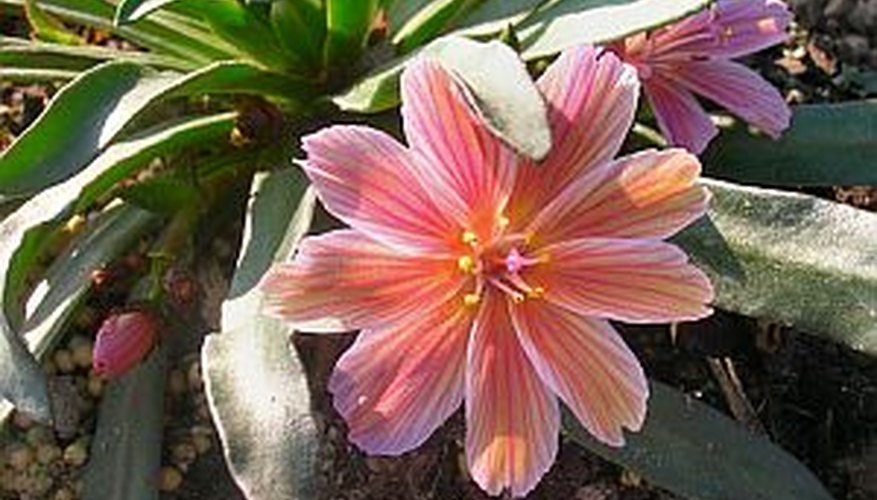 Bitterroot is a beautifully, showy flower that can be challenging to grow. The taproot often suffers decay in the soil if the growing area does not have ideal drainage. Bitterroot is most happy when it has a sunny, dry spot in a rock garden. Plant bitterroot seeds in the autumn and look for white or pale pink blossoms to appear the following summer through early autumn.
Prepare a sunny or partially sunny growing area in the autumn. Work the soil down to a depth of 5 inches and add 1 inch of compost to the top of the soil. Work the compost in to the soil and rake the surface smooth to finish preparing the growing area.
Plant the bitterroot seeds in clumps. For best results, plant one seed packet together as one clump under a 3/8-inch soil cover.
Apply approximately 2 inches of gravel mulch around the planting area to help control moisture in the soil and help the soil drain efficiently.
Leave the newly planted seeds over the winter and look for sprouts the following spring.
Give water sparingly throughout the growing season. Bitterroot prefers a dry growing soil. Stop watering after the bitterroot is finished blooming for the season. Leave the spent blossoms on the plants to enable the seeds to drop into the soil for the next summer's growth.
Things You Will Need
Compost

Garden spade

Rake

Bitterroot seeds

Garden trowel

Gravel mulch
Tips
Bitterroot traces its documented history back to the expedition of Lewis and Clark. It was at that time that Meriwether Lewis discovered the plant, admired it and tasted the roots of the bitterroot plant. He documented his findings in his journal. The genus name of bitterroot is "Lewisia Rediviva" due to Lewis' discovery during their expedition.

Bitterroot grows well in USDA zones 4b through 9b
References