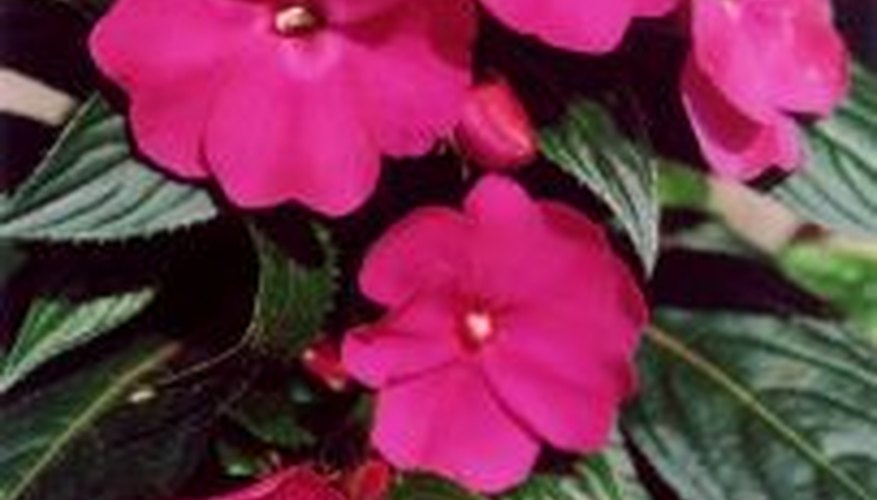 Many gardeners look forward to planting flowers each spring. This allows them to enjoy colorful blooms throughout the spring, summer and fall months. Most gardeners utilize the show-stopping colors of annual flowers as their choice for flowers for planters and beds. Once the flowers have been selected, making sure they are arranged for display and growth will provide both an attractive and flourishing piece.
How to Arrange Flowers in a Planter
Choose a planter to place the flowers in. This could be an urn or a flower planter hanging below a window. In a potting shed or solid surface table begin to fill the bottom of the planter with fillers on the bottom. The fillers, such as pop cans or mulch, can fill up the bottom layer of the planter, so you don't have to use so much dirt. On top of the fillers place a grocery bag with holes or slits on it. Tuck the sides down under the filler. Add two layers of top soil, potting soil or peat moss mixture to completely cover the plastic. This will serve as the base.
Select the flowers to place in the planter. Popular annual selections for planters include alyssum, celosia, cornflower, geraniums, impatiens, flowering cabbage and kale, statice, vinca, viola, rudbeckia, dusty miller, coleus, begonias and amaranthus .
Arrange the flowers with them still inside of their pot. For a planter against a wall or surface, place tall plants such as celosia, snapdragons or marigolds in the rear of the planter. Create a layered or pattern effect with the plants. This means to place smaller plants in the middle and bottom, or they can be scattered in different colors between every other plant. With planters that will be observed from every direction, place a taller plant such as a spike in the middle for a dramatic centerpiece. Fill in the sides with flowing colorful plants, such as lobelia that will hang over the edges. Move the plants around until you achieve the look you desire.
Remove the plants one by one and then place them into the planter. Make sure plants have been watered thoroughly to avoid crumbling. Slowly pull apart the plants at the roots to loosen, but try not to damage the roots. Pack them in tightly and firmly so they are planted.
Fill up the measuring cup up with soil. Slowly fill in the areas around each plant with the hand shovel. Lightly pack the soil down. Water thoroughly.
Things You Will Need
Planter of your choice

Potting soil

Annual or choice of flowers in small plastic growing pot

Handheld garden shovel

Plastic cup or bucket

Recyclable fillers such as aluminum pop cans or mulch

Plastic grocery bag

Garden scissors
Tips
Use garden scissors to trim off or deadhead any flower heads that are dead or finished blooming to promote re-growth.

Start some annuals from seed indoors two months before spring for a good flower selection.

Use lightweight fillers to make it easier to transport heavy urns or planters as opposed to filling the bottom with rocks. It also provides a little more weight to stabilize the planter.
Warning
Do not over water or over feed annuals. This can lead to yellow leaves and root rot.
References
Resources