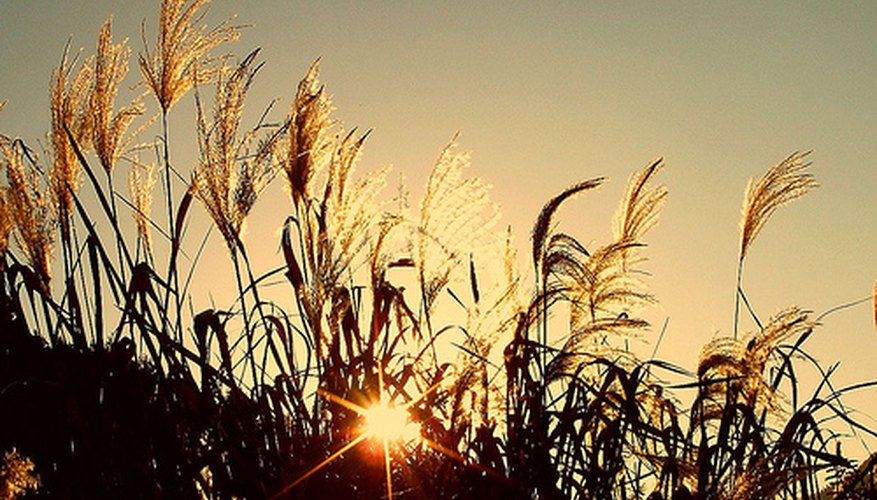 Eulalia grass, also known as maiden grass, is an easy-to-grow ornamental grass. It is quite elegant with its narrow leaves and white mid-ribs that form into large clumps. This low-maintenance grass is perfect for the novice gardener. Eulalia grass does well in gardens, or planted as a border or specimen plant. It also makes a nice screening plant and grows well by the water. Eulalia grass grows best in zones 6 through 9.
Select an area in your yard that is large enough for the eulalia grass to reach full size. Eulalia grass can reach a height of 6 to 10 feet, and have a width of 3 to 6 feet.
Amend the soil with manure, peat or other organic material if it is too sandy. Eulalia grass prefers to grow in fertile soil that drains well.
Choose an area to plant the eulalia grass that receives full-to-partial sun. If growing eulalia grass in a hot region, plant the grass in an area with partial sun throughout the day to help the soil retain moisture.
Water the eulalia grass three times per week during the growing season. It is best to keep the soil moist, but not flooded. In the winter, eulalia grass will not stand excessive moisture.
Prune the eulalia grass down to the ground in the early springtime. Cut the tassel-like flowers early in the fall and use them as cut or dried flowers.
Propagate new plants by either sowing eulalia grass in containers in the early spring, or by dividing the youngest plants in the spring. It is difficult to divide plants as they become older.
Things You Will Need
Manure

Peat

Pruning shears
Tips
Eulalia grass is a moderately fast grower, and is considered in some areas to be invasive or an aggressive grower.

Pest problems are rarely a concern for those growing eulalia grasses.

The showy seed heads on eulalia grass attract birds.

Eulalia grass will grow well if planted on the outskirts of a home pond, as it likes the moist soil.
References