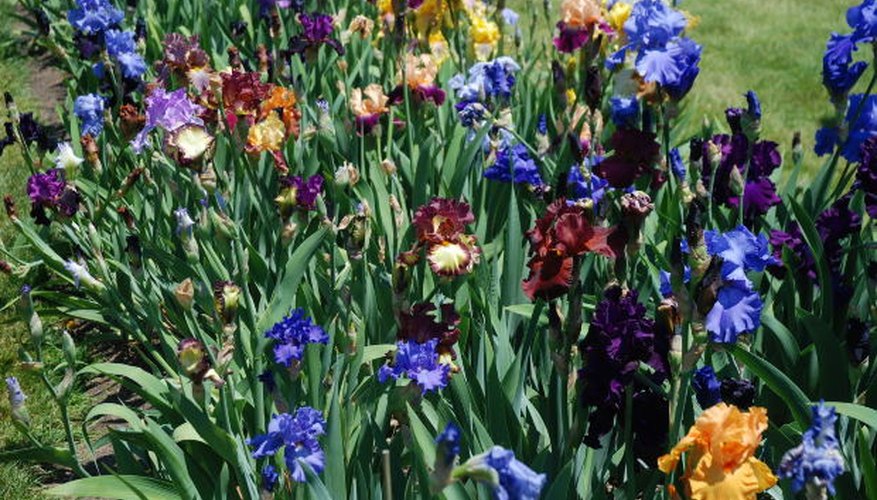 Iris create a dazzling display of color in late spring or early summer with their free-floating blooms amid deep green fans of foliage. Ranging in color from traditional purple to brilliant hues of blue, yellow and white, irises are ideal for early color in perennial gardens. These sun-loving plants spread quickly, creating a larger mass of color each year and returning each spring bigger and better than the year before.
Select a location for iris that receives six to eight hours of direct sunlight a day. Although they will grow in partial shade, size and bloom color may suffer.
Prepare a bed of well-drained soil tilled to a depth of 6 to 8 inches. Add well-rotted manure or compost to improve drainage and to improve the texture of the soil. Mix in well with the existing soil.
Plant rhizomes anytime from spring to late summer for next season's blooms. Place so that the top third of the rhizome is above the soil line. These fibrous roots prefer a little sun and spread along the surface of the soil. Water thoroughly and allow the soil to dry slightly between waterings. Apply water-soluble fertilizer once a month during periods of active growth.
Keep weeds down by removing young weeds as soon as they emerge. Grass that grows between bulbs can be pulled by hand. Be patient--eventually the roots of the grass will cease to send up new shoots.
Divide iris in late summer or early fall whenever they become overgrown. Iris generally requires division every three to four years. When rhizomes begin to grow close together and blooming decreases, it is time to divide them.
Lift bulbs with by digging underneath with a garden fork and lifting them free of the soil. Most rhizomes will pull apart with a gentle tug, but you may need to cut them with a sharp knife. Leave a fan of foliage and several roots on each rhizome. Cut foliage back to 6 inches. Replant in a similar location and water thoroughly to encourage root formation.
Resources