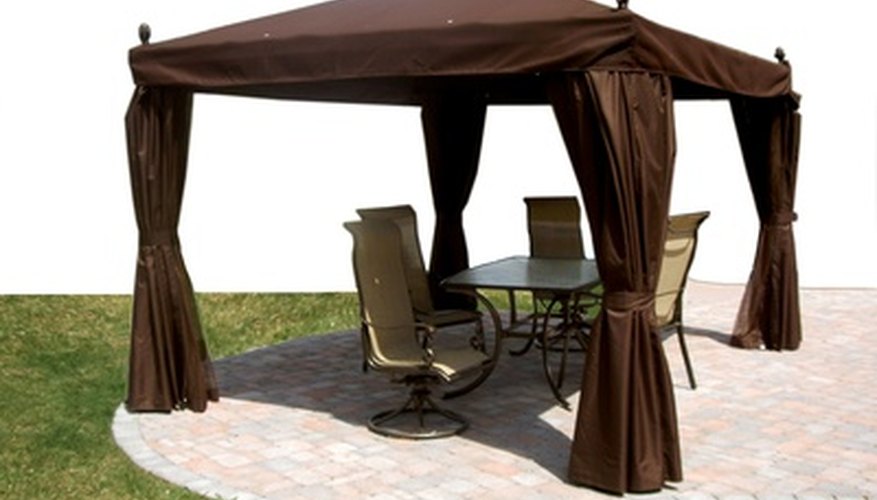 Establishing privacy in your backyard space requires little money, time and previous experience with household maintenance tasks. Prior to beginning any project, however, venture into the space and imagine what you'd like it to look like when completed. If you want a relaxing environment, allow your colors and design to reflect that. If blocking out noise is essential, use dense, hearty bushes and pipe in music. Large umbrellas also keep high-level peeking at bay.
Fabric
Several types of fabric, shades or blinds are available for an easy, inexpensive way to partition off your back patio and create individual living zones outdoors. Attach anchors into the wall, overhang, ceiling or structural beam and affix curtain rods. Hang shower or regular curtains treated with an all-weather element spray. Sew a seam around flashier fabric and use this as well. Check with a supplier of outdoor furniture for specific fabric materials and patterns ideas.
Lattice and Vines
Nail a large section of lattice to posts in the ground. Gently weave various vines through the diamond or square shape openings and wait a month for them to fill in. Or, use artificial vines.
Potted Plants
Dense shrubbery around the border of your patio area with large potted plants in between creates the privacy you desire. Make this a fun weekend project by painting large terra cotta planters in various colors to establish a theme. Appropriate shrubs and plants for this project include alpine currant, barberry sunjoy and thornless, and various boxwoods and hibiscus. If you prefer using only potted plants, place them on a sturdy bench to increase the height of your coverage and paint the bench to match other decor.