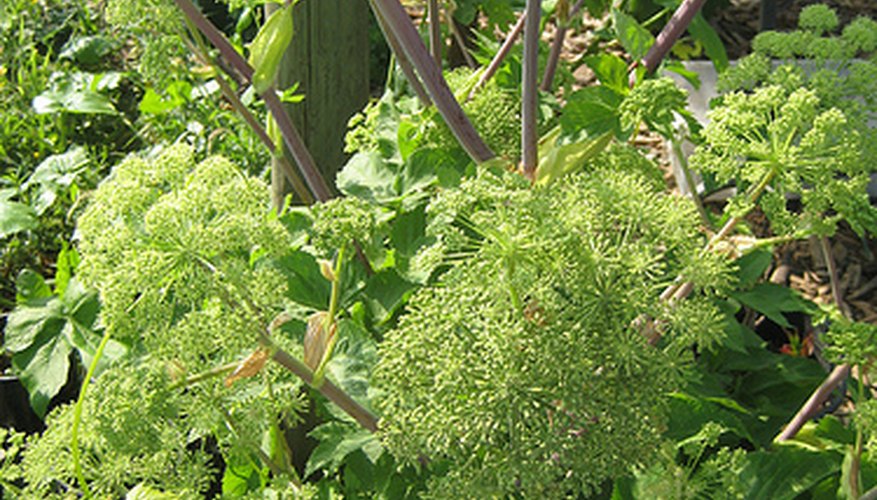 Angelica is a plant that once was believed to be sent to man by angels to ward off the plague and other diseases. It is also carried in funeral processions in Germany. Angelica in your garden attracts wasps and other beneficial insects. The plant can be used medicinally or as a kitchen herb. Once you start growing angelica in your garden, it will propagate itself the next year. Planting this herb from seed isn't difficult, but timing is important.
Harvest seeds from your angelica plants a few weeks after they ripen.
Decide if you will sow your seeds right away or wait until spring. They must be sown immediately or kept frozen until you are ready to plant them. Otherwise, they will loose their ability to germinate.
Pick an area with full sun to partial shade. The soil should be moist and slightly acidic.
Press the seeds 1/4-inch into the ground, and space the each seed about a foot apart. Cover the seed with soil.
Water the plot immediately after sowing the seeds. Keep the soil moist each day.
Fertilize the soil with a general purpose fertilizer.
Remove flowers before they bloom to lengthen the life of the plant.
In the fall, cut stems to the base to encourage a longer growing cycle. Plants should self sow the next year.
Dig up 2-year-old roots, and slice and dry them in a sunny location for medicinal use. Store angelica root in air-tight containers.
Things You Will Need
Angelica seeds

General purpose fertilizer

Air-tight container
Warnings
Avoid using angelica during pregnancy.

The chemical in furocoumarin in angelica may produce an allergic reaction in some people.

Angelica raises the blood sugar level, and may be unsafe for diabetics.
References