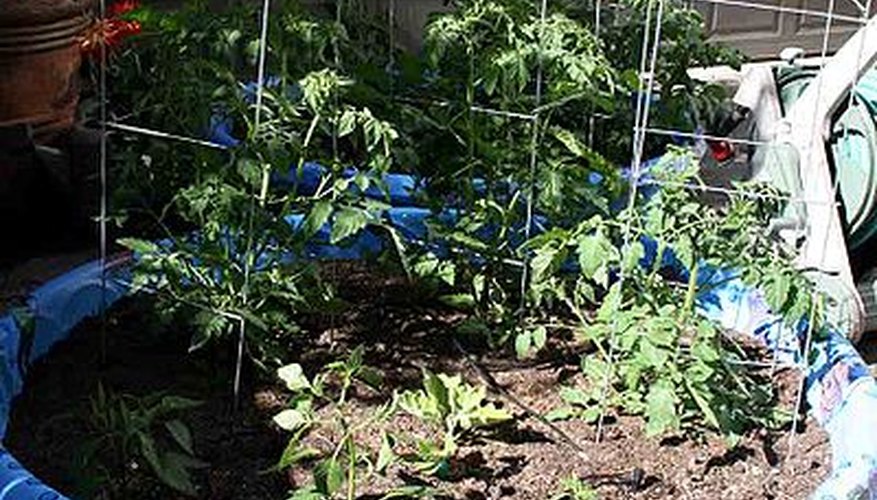 Tomato cages prevent tomato plants from breaking under the weight of the fruit and keep fruit elevated, reducing the risk of disease or damage from insects. The type of tomato cage you choose depends on the variety you grow, its size at maturity and your personal preferences. Commercial tomato cages come in a variety of styles, the most common being a tiered circular or square cage installed over the plant. Some prefer to construct sturdy wooden cages for their tomatoes.
Choose the type of tomato cage you prefer. Gardening stores and home improvement centers provide a selection of steel or wire cages in early spring. Look for one that is sturdy and does not bend easily. Inexpensive cages can be purchased for a few dollars, but if they are not constructed of sturdy wire, they will not hold the weight of a mature plant. If the wire bends easily with your hands, consider a stronger cage.
Purchase a cage for each tomato plant before planting. Resist the urge to wait until later to buy the cages. Tomato plants grow quickly, and installing the cage can be difficult once plants have gained some size.
Plant the seedlings in the desired location and install the cage at the time of planting. Use care not to disturb the roots of newly planted tomatoes. Push the wire rods into the ground to a depth of 6 inches to anchor it in place. Check that the cage is securely in place. Place a wooden stake or metal peg into the soil to anchor it in place if necessary. A peg on either side of the cage provides a good anchor.
Position growing stems and branches through the openings of the cage so that foliage grows freely to avoid misshapen or damaged stems trapped beneath the wire guides. Check plants often and guide branches between wire guides.
Things You Will Need
Tomato cages

Tomato seedlings

Wooden/metal stakes (optional)