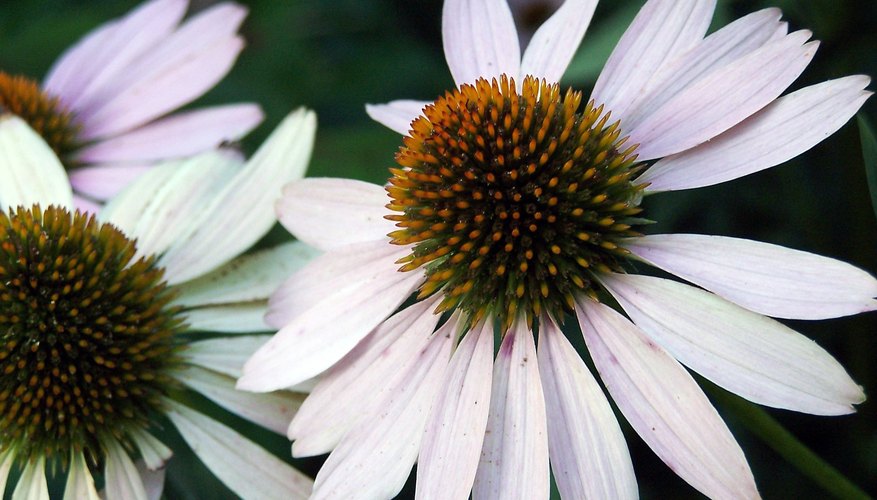 Coneflowers are pretty and easy-to-grow perennials that are native to North America.The purple flower is attractive and has a long life when it is used as a cut flower. Coneflowers can be grown anywhere east of the Rockies. This hardy plant thrives without much water and the seeds are popular with wildlife, especially during the winter. Once established, coneflowers will return year after year with little or no maintenance required. These traits make the coneflower a good choice for just about any garden.
Prepare the flower bed by first locating an area that is well drained and receives at least 8 hours of sun. Use an herbicide to kill all grass and weeds in the bed.
Use a shovel and hoe to aerate the soil and remove the dead grass and weeds. Amend the soil if necessary by adding compost or commercial soil mixes. Combine the soil and the compost until the bed is thoroughly cultivated.
Use a rake to level the bed. Mix the coneflower seeds with several cups of sand. This will ensure even and easier broadcasting of the seeds.
Sow the seeds evenly over the entire bed. Lightly rake or walk over the seeds. Do not cover the seeds with earth any deeper than one-sixteenth of an inch. It is normal to see some seeds when you are finished.
Water the seeds thoroughly. Keep the bed well watered for several weeks. Seeds will start germinating in 2 to 4 weeks.
Once the seeds have sprouted, water regularly and remove any weeds. After the coneflowers are established, cut back on the watering. Coneflowers are very drought tolerant, and since they are a native species, they can get by with very little watering.
Coneflowers are not bothered by pests and will thrive even if left unattended. Do not "deadhead" the flowers as birds like to feed on them during the winter.