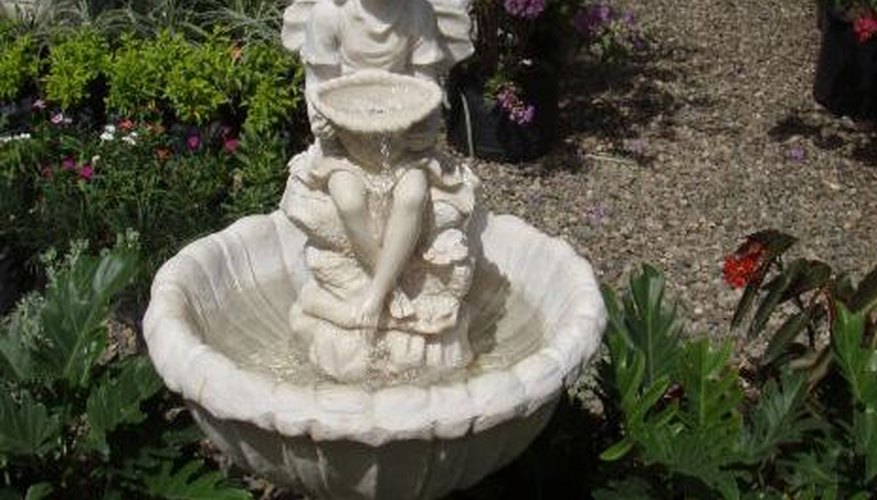 Nothing quite compares to the relaxation and beauty of a water fountain running in your garden or backyard. You will probably spend a lot of time selecting the fountain which reflects your style, so it is important to know how to care for outdoor water fountains to prolong the life of the fountain. With regular maintenance and thorough cleaning, your fountain can last for years and continue to be a source of enjoyment for you, your friends and family.
Clean items from the fountain to keep the pump from clogging. Remove leaves, twigs, grass clippings and other debris from the fountain on a weekly basis and after any large storms.
Drop in a tablet of Fountain Block to keep algae in check. While you can make it a point to clean the surface of the fountain with a sponge, it won't stop algae from growing completely.
Gently rub away calcium buildup, called white scale, with a cloth and some white vinegar. The water of the fountain should rinse away the free deposits.
Clean the pump of your fountain monthly by removing it from the fountain and wiping away buildup and debris with a rag. Taking the cover off will let you clean the inside of the pump. You can also scrub crevices with a toothbrush.
Protect your fountain from winter damage by removing the pump, cleaning it and storing it indoors until spring has arrived. Put a tarp over your fountain to cover it completely, and secure the tarp with bungees or rope.