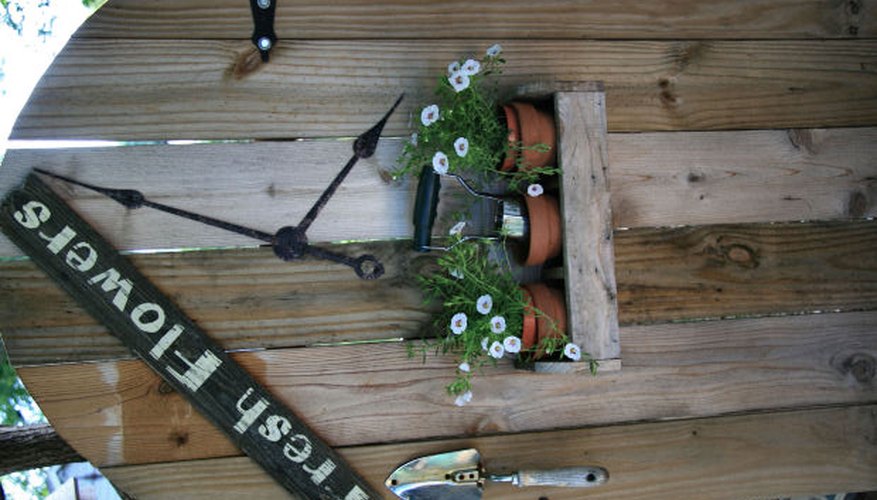 Growing flowers and vegetables in containers provides the opportunity to garden in areas where soil is unsuitable for growing or space is limited. Containers also allow gardeners to move plants as lighting changes during the season or to adjust exposure if plants fail to thrive in one location. Container gardening does require more attention to the water and fertilization needs, but with monitoring, container gardens provide lush foliage in areas that will not support natural plant growth.
Select containers in the appropriate size for the plants you wish to grow. Small 8-inch plant pots provide adequate room for basil, thyme or sage but are inadequate for large plants like tomatoes and peppers. Consider the overall size of mature plants and their root systems when selecting containers.
Choose containers that complement your home and yard. Although nearly any bucket or bin can be used as a container, consider the overall appearance and how it will reflect your style. A mix of brightly colored containers add a whimsical style to your yard but may not be appropriate in more formal designs.
Check for adequate drainage holes in containers. Drill holes in the bottom of buckets or bins that do not have drainage holes, to prevent water from settling in the bottom of the container. Cover the bottoms with large pebbles or shards of broken pots before filling them with soil.
Fill containers with topsoil or all-purpose potting soil mixed with compost or well-rotted manure. For lightweight planters, peat moss can be mixed with the soil to create a lighter mixture, but peat moss is acidic and may alter the pH of your soil. Make your own mixture with one part soil, one part peat moss, and one part sand or perlite.
Monitor your containers carefully for any signs of drying, and water them when the soil feels dry to the touch. Container gardens dry out quicker than gardens in the soil and require more frequent watering. During hot dry periods, containers may require daily watering to maintain the proper moisture level for plants to thrive.
Fertilize your plants regularly with a water-soluble fertilizer. Apply a mixture of 1/4-strength fertilizer with each watering to maintain proper nutrients in the soil. Nutrients leach quickly from the soil in containers and must be replaced.