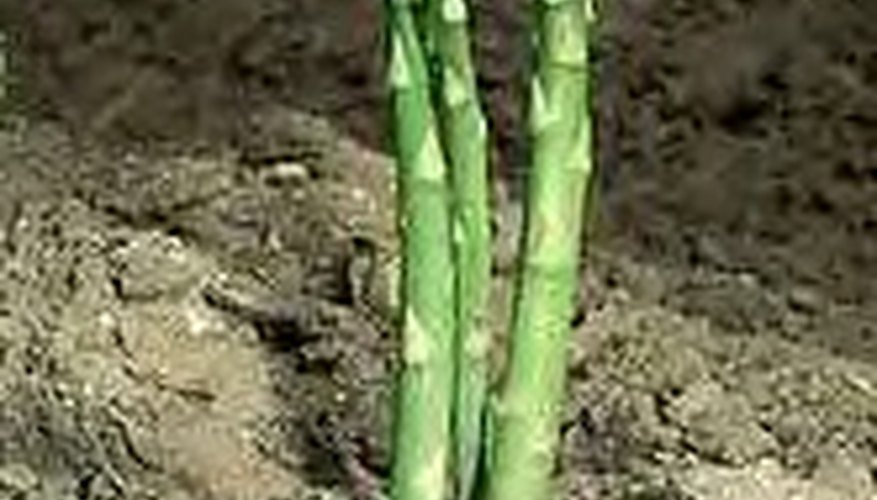 Go the Distance with Asparagus
by Neil Moran
If you're into instant gratification from your backyard garden, then read no further. But if you're looking for a long-term relationship with a nutritious, delicious vegetable, then think asparagus. And read on.
Unlike some of garden favorites like strawberries and raspberries, which will wither with time, asparagus will go the distance. In fact, my father is still picking stray asparagus spears from a commercial asparagus patch that was planted when he was a boy, and, that was a long time ago!
By choosing to break ground for an asparagus patch you'll get your daily allowance of exercise plus a potential bounty of healthful eating for years to come; initially, however, you have to wait. And wait. Actually, about three summers. But before you know it you'll be eating Asparagus with Pimentos (see recipe at bottom) with your own fresh asparagus, at a fraction of the cost at the supermarket.
The best way to start an asparagus patch is by planting the asparagus crowns or roots. Asparagus is hardy to zone 3 so even northerners don't have to worry about this one surviving the winters. Purchase quality stock from a reputable supplier. In other words, don't fall for discounted specials, you'll have too much work into this project to see it fail because you purchased poor root stock. The all male varieties, such as Jersey Knights are the most prolific producers. Other varieties include Roberts Improved and the old standby and reliable Mary Washington.
Next, find a permanent spot for these fern-like plants. You can plant asparagus right in your garden or in the middle of a lawn. Regardless of what location you choose, make sure you have enough room to expand your "asparagus farm" should you choose to, as I have. Once I got accustomed to fresh asparagus each year I couldn't help but expand my asparagus patch, which is now producing enough asparagus for the four of us and a little left over to freeze.
Choose a sunny location away from tree roots. If you choose to plant your crowns in your lawn, you'll have to remove the sod with a garden shovel. Build the soil back up to the top of the turf with topsoil. This will help promote good drainage. Asparagus doesn't require rich soil, however, it will do poorly in clay. Sphagnum peat moss and sand can be added to amend heavy soils. A slightly sandy soil is a good growing medium for asparagus.
I like to bury a couple of shovels of well rotted sheep or chicken manure underneath where I'll be planting the roots. This, I believe, helps the roots to penetrate the soil and feeds the hungry plants. Dig a hole about 18 inches deep and dump in a couple of scoops of manure. Cover the hole back up with some loose soil. Dig your next hole about 12 inches away from the first one. A ten foot square bed will support about ten plants which is a good start for a family of four.
Now get ready to plant your new roots. Dig a shallow hole (above the one you've just added organic matter to) about six inches deep and a little wider than the width of the root systems. Spread the roots around the hole then cover with about three inches of topsoil. Don't fill the hole completely to the top. Gradually fill the hole as the spears emerge from the ground for the first time. Add a little dirt around the developing spear every couple of weeks until you've completely filled the hole.
Feed your fledgling plants with an organic or inorganic substance. An ideal granular fertilizer should have an NPK (nitrogen, potassium, potash) content of 17-16-28. However, an all purpose 12-12-12 will suffice. You can also feed asparagus a liquid plant food, such as Miracle Grow. Organic gardeners may prefer a "manure tea." The latter is simply a mixture of about 2 part (rain) water by one part well rotted livestock manure.
Fertilize a couple of times during the course of the first summer, then again in the early spring of the following year. Another good way to keep the plants fed in subsequent years is to mulch them with livestock manure, allowing the leaching of organic fertilizer into the soil and sprawling root systems.
Prior to winter, I blanket my asparagus with well rotted livestock manure mixed with hay. You can also mulch with wood chips or grass clippings. Be sure to rake the mulch off your asparagus bed early (right after the snow melts) the following year. This will allow the sun to tickle the root system into action and get it producing the mouth watering treat you've been waiting for all winter. Harvest asparagus when the spears are 8-10 inches tall. Use a sharp knife to slice through the spear right at ground level. Be sure to harvest before the plant gets woody and goes to seed, which happens quickly in nice weather. Wash thoroughly.
Asparagus is among the top ten vegetables in nutritional value, scoring high in vitamins B, A and C plus iron. Steaming asparagus, or any vegetable, helps maintain optimal nutritional value as well as flavor. But they are also healthy--and tasty--boiled and topped with butter and cheese sauce, baked in a vegetarian lasagna or fried with scrambled eggs. Or try them whole as a side dish smothered in butter or low-fat margarine or sliced into 2-3 inch pieces for casseroles and other dishes.
For a real taste treat try this recipe:
Asparagus with Pimentos
1 pound fresh asparagus, trimmed
1/4 cup dry bread crumbs
3 tablespoons butter or margarine
2 tablespoons grated Parmesan cheese
2 tablespoons chopped pimentos
In a saucepan over medium heat, cook asparagus in boiling salted water until tender, about 8 minutes. Meanwhile, in a skillet, brown bread crumbs in butter. Drain asparagus; place in a serving dish. Sprinkle with crumbs, cheese and pimentos. Yield: 4-6 servings.
About the Author
Neil Moran is a horticulture trades instructor and author of North Country Gardening: Simple Secrets to Successful Gardening. Neil is also the owner and operator of Haylake Gardens, a garden center and gift shop in the Upper Peninsula of Michigan. Questions and comments can be emailed to nmoran@30below.com.