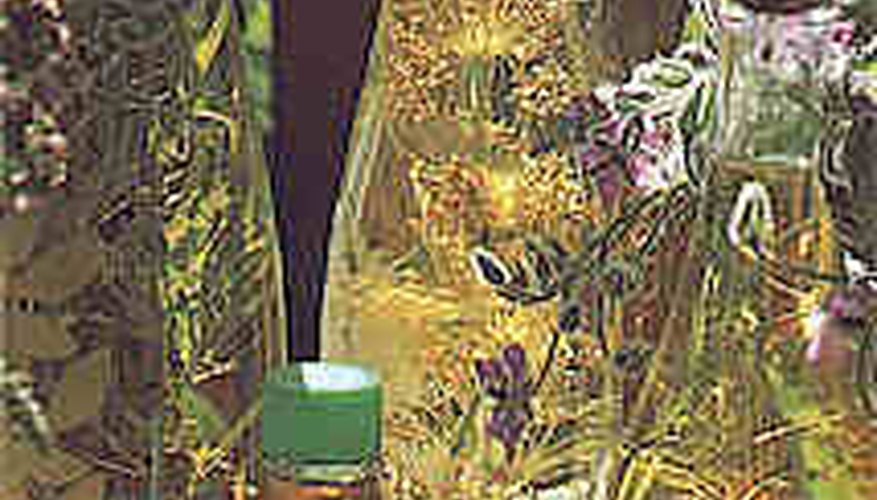 by Barbara Fahs
If you've ever admired those pretty bottles of herbed vinegars and oils at your local gourmet shop or farmer's market, or if you've ever wondered what's really in "Herbal Essences" shampoo, you're a budding herbalist.
Herbs are not only super simple to grow, but the wonderful products you can make from them are equally easy.
Here are a few tips from a gardener who has grown, studied and used herbs of many kinds for almost 30 years. But in all those years, I've never actually made a recipe from any of my herb books. Why not? Where the heck do you find "rose water" anyway? And do I really want to smear avocado on my face? No, definitely NOT! So I have gotten lazy and wound up buying more and more of my food and beauty products at the store. I must sometimes remind myself that it is so easy and inexpensive to make some of my own wholesome, delicious, and attractive products in my own kitchen. And so can you.
Herbal Hair Rinse
Who needs chemicals and food coloring in our hair care products? It's so easy to make your own hair rinse I don't know why everyone isn't doing it. Rosemary or Lemon Verbena rinse is especially good for oily hair and makes your hair smell heavenly after your bath. Here's how to make it:
Add a heaping handful of dried or freshly cut Rosemary or Lemon Verbena sprigs to about 1 quart of water, which you've brought to a boil in a non-metal pan, such as Pyrex.
Reduce the heat and simmer for about 30 minutes.
Strain your rinse and transfer the juice into a non breakable container, which you can leave in the shower.
After you wash your hair, saturate it with about 1/2 cup of the herbal mixture and do not rinse your hair again.
Herbal Iced Tea
Growing your own herbal teas can be just as therapeutic as drinking them. The tea garden is a sensory delight, producing colors, aromas, and flavors to enjoy throughout the seasons. The plants are easy to grow and you don't need a large area — even a few containers will do.
Tea has become popular again! You can buy it in bottles in your local grocery store, but why spend the money when it's so easy to make your own? It's so easy, you don't even have to boil water. Here's how to make some delightfully refreshing herb tea:
In a clean clear glass container, place about 10 4-inch sprigs of fresh herb of your choice (Try Cinnamon and other Basils, Chamomile flowers, different mints, etc.). Or you can use dried herbs if fresh ones are not available. You can even use a tea ball it you want to get high tech! If you like caffeine, you can include two or three tea bags of either black or green tea.
Fill the jar with good pure water, cover it, and set it in a sunny spot for several hours.
When it's done, strain your tea and pour it over plenty of ice cubes in a tall frosty glass. Garnish your beverage with a slice of lemon, lime, or orange, and sweeten to taste.
Store the leftover tea in the fridge, but use it up within several days to get the benefit of the fresh, fragrant herbs.
Herb Vinegar and Oil
Herb vinegars are lovely and simple to make. You're limited only by your imagination -- and imaginations have a wonderful way of opening up when you begin to stretch them. Start by making some of the vinegars in this booklet, then create your own, adding your favorite herbs, spices and flavorings.
It's no secret that herbed vinegars and oils are very simple to make in your own kitchen. You can use herb vinegar in salad dressings, add some to the water in which you steam veggies, and use it in any recipe that calls for vinegar. Oils can be used in salad dressings, for sautéing, as well as for massage and skin care, depending on the herb you select.
To make herb vinegar, just follow these steps:
Select a good quality apple cider vinegar or wine vinegar.
Into a clean quart size clear glass container, place about 10 4-inch sprigs of fresh herb of your choice (be imaginative! Try Tarragon, Basil, Savory, or whatever strikes your fancy or is plentiful at the time) and 2 cloves of garlic. You can also use dried herbs, but fresh ones contain more essential oils and are more flavorful and aromatic.
Fill the jar with vinegar and cover it.
Set the jar in a sunny spot for one full day.
Store in a cool, dark place. It keeps virtually forever.
To make herbal oil, follow these steps:
Select a good quality olive oil or other oil of your choice. Almond oil is very nice as a base for massage oil and skin care.
For cooking oil, you can choose any culinary herb that strikes your fancy, such as Bay Laurel, Oregano, Basil, Marjoram, etc. Olive oil, canola oil, and sesame oil are excellent choices for herbed cooking oil. Place about 10 4-inch sprigs of fresh herb and 2 cloves of Garlic into a clean quart size clear glass container.
For massage oil, Lavender, Eucalyptus, Rose Geranium, or any other of your favorite fragrances are good choices. Use 10 4-inch sprigs of fresh herb for each clean quart glass container. Or simply add a few drops of essential oil of any of these herbs to a nice almond or apricot seed oil.
Fill the jar with oil and cover it.
Set the filled jar in a sunny spot or a warm place, such as over a pilot light of a stove, and leave it there for about 10 hours.
Store your finished product in a cool, dark place. It will stay good for several months.
For convenience and gift-giving, you can transfer your completed vinegar or oil to smaller decorative bottles -- and don't forget to add a small sprig of fresh herb to add to the effect.
With these simple formulas, you can impress your friends and family with attractive, homemade gifts, and perhaps embark in some new directions in your own life that include herbs and the wealth that nature has given us.
About the Author Barbara Fahs (hiiakas(at)pop.lava.net) lives on the Big Island of Hawaii, where she is planting and establishing an educational herb garden she calls "Hi'iaka's Garden." She is a University of California Cooperative Extension Master Gardener and has been studying, growing, and using culinary and healing herbs since 1971.