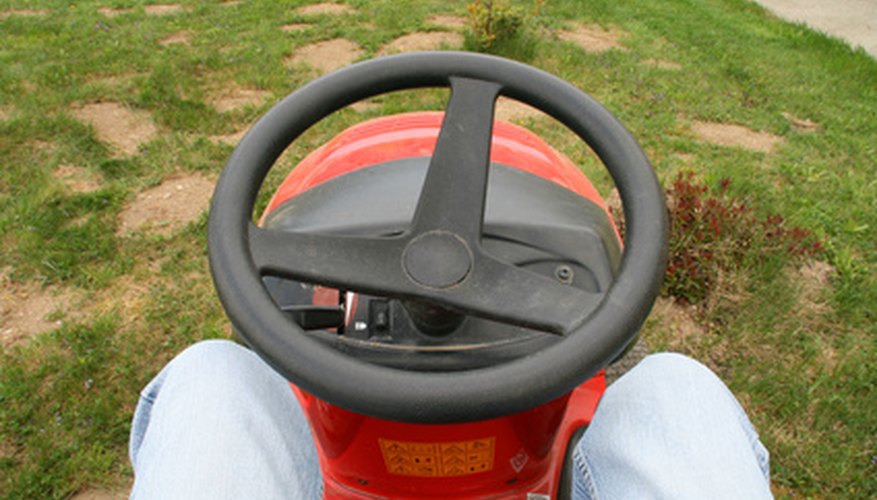 The need for a riding lawn mower for a business or residential property is based on the size of the lawn. The Murray lawn mower is manufactured and sold in a range of sizes that will handle a small to large property. Each type of mower has an identifying list of specifications that help the buyer to choose the best machine for the need.
History
J. W. Murray founded the Murray Ohio Manufacturing Company in Cleveland, Ohio. The company manufactured lawn mowers and garden tractors for commercial and residential use. Inexpensive riding lawn mowers became the 21st century signature piece of equipment for the company, which struggled with financial problems. The Briggs and Stratton company, which was started in 1908, acquired the Murray name when it purchased the struggling company in 2004.
Features
The Murray riding lawn tractor is outfitted with a Briggs and Stratton engine. The standard mower has a 5.5 horsepower. The range of Murray mowers increases in power up to a 22 horsepower in their top of the line performance riding machines. Manual, gear-driven, hydrostatic and automatic transmissions are offered for general to heavy-duty mowers. The riding mowers are outfitted with a cushioned seat mounted on a platform for comfort and ease of movement.
Types
The Briggs and Stratton Murray riding lawn mowers are offered in two styles. The side discharge mower disperses the cut grass from the side of the machine in an even spray. A 247-liter bag attachment is available for collecting the mulch cut from the lawn. The rear discharge machine is equipped with a 173- to 300-liter mulch bag to contain cuttings as the grass is mowed. The mid-engine unit features a quiet Briggs and Stratton engine located under the platform and seat of the riding mower. This compact mower provides a tighter turning radius, which reduces the need for a trimmer around gardens, driveways and buildings.
Cutting Blades
Murray mowers have an exclusive "toolless" system that allows the operator to quickly adjust the cutting deck during operation with the push of a button. Various mowers have a one or two cutting blade system which cuts the grass at heights from 25 to 120 millimeters.
Issues
As with any piece of equipment, the Murray riding lawn mower has a few common issues that require repair and maintenance. The cogs or an entire wheel are prone to deteriorate over a period of time. It is common to replace wheels after a few years of use. Belts on the machine wear and break with use, which requires replacement during maintenance. Also, you should periodically have the fuel tank inspected, as it may develop a leak.